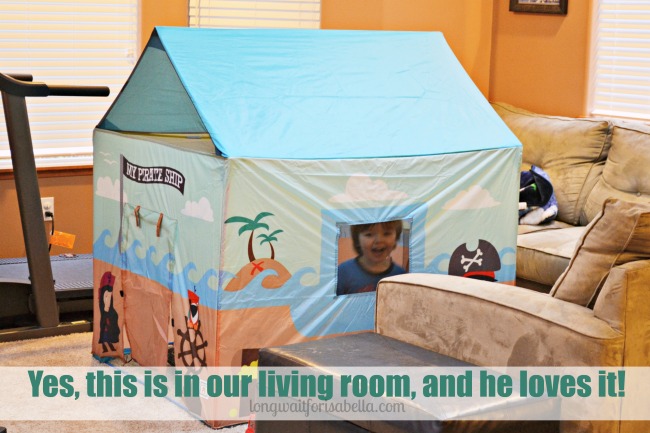 There are certain things that my children play on a weekly basis in our home; building forts is one of those things. They love forts – they destroy my living room quite regularly by taking off all the cushions, bringing in the bar stools and finding every single unused blanket in our house. Their forts get quite elaborate when daddy joins in the fun too. To be honest, the mess drives me batty. But, I let them have their fun and usually leave it up for at least one day. After that I can't take it any longer.
We have a house full of toys, electronics, books, and much more but building forts is what they love.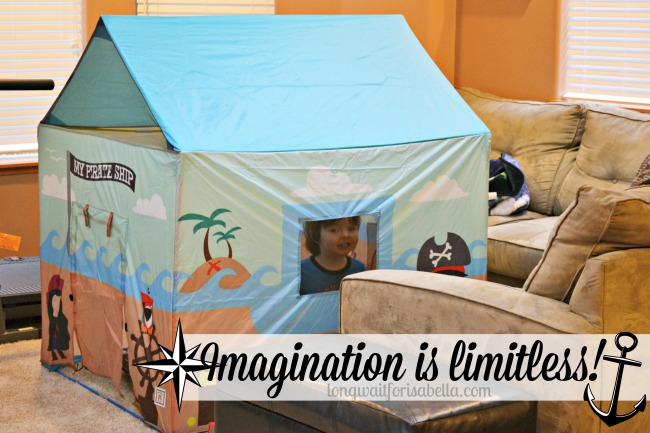 This is why, as a mom to two  younger kids, I am in love with Pacific Play Tents. Seriously, I set this My Pirate Ship tent up by myself in about ten minutes and the kids would live in that thing if they could. They LOVE it even more than I do.
[Tweet "If your kids love forts, you've got to check this out! @pacplaytents"]
My Pirate Ship House Tent
Quality material. Fun designs. Tall enough and large enough for even my seven year old daughter to fit. I told her originally that this pirate ship was for her brother but soon I found all his cars out of it and her dresses, jewelry, "curtains", and books inside. The only problem now is who gets to decide what goes inside this fun house tent.
Pacific Play Tents seriously has the most amazing play tents, bed tents, house tents, tunnels, parachutes, chairs – you'll easily find something that your children would love. I don't even want them to see the website – they'll want everything!
Connect with Pacific Play Tents
Facebook // Twitter // YouTube
[amazon_link asins='B00083DD4O,B00C2OAPCK,B00009IMAS,B00000IURZ,B000EUJOIK' template='ProductCarousel' store='wpplugin01-20′ marketplace='US' link_id='5912bf82-e8ee-11e6-9b7e-eff0ec861fb3′]

Disclosure: I was sent the above product for review. No other compensation was given. All opinions are mine alone.