This shop has been compensated by Collective Bias, Inc. and its advertiser. All opinions are mine alone. #SkinnyCowMoments #CollectiveBias
I've mentioned before how I like to take "me-time" in the evening after everyone goes to bed. Those 1-2 hours of time alone, are hours that I crave pretty much all day long. It is a time for me to unwind and not worry about the dishes that didn't get loaded in the dishwasher, or that load of laundry that didn't get folded. It is a time to have a yummy snack that is just for me and stream some television that I love.
Moms, do you make time just for yourself each night?
Maybe, like me, you know a new mom in your life? My friend just had baby number two. I know that if anyone in my life could use a "time-out" from the cares of motherhood, it is her. So here is, at least in my opinion, a perfect gift basket for the moms in your life.
These gift basket ideas for a mom time-out are truly a winning combination. I am a fan of chocolatey treats. Period. And in the evening I want those treats to be delicious. Skinny Cow® offers some many amazing candy options – crispy, caramel, truffles and so more! I picked up the Skinny Cow® Blissful Truffle Candy Bars in milk and dark chocolate flavor! (How can I part with these? I need to buy more!)
[Tweet "So delicious. You can't buy just one box. #SkinnyCowMoments #ad"]
Skinny Cow® even has their own ICED COFFEE! Maybe your mom 'me-time' is after you drop the kids off at school, you might want a great tasting pick-me-up. Try the Skinny Cow® ICED COFFEE; you won't be disappointed. One last product from Skinny Cow® that you might be interested in are their Skinny Cow® Frozen Snacks or Treats. The Vanilla Almond Crunch Bar? Creamy and decadent – perfect for me-time after the family goes to bed!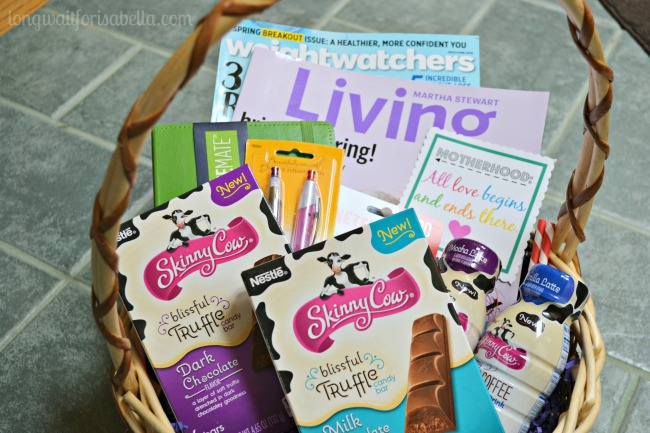 I personalized my gift basket by adding a printable gift tag with the following quote about motherhood:
Motherhood: All love begins and ends there.  -Robert Browning
You can create one with any quote on motherhood. Do you have a favorite motherhood quote?
I simply signed the back of the gift tag in lieu of a card. Easy to make and personalize – that's my kind of gift tag. If you'd like to print your own for the mothers in your life here is a JPG file:
Right click and open in a new window to see the full resolution and simply print!
If you'd prefer a PDF version of this Motherhood Gift Tag here it is:
If you're interested in the Skinny Cow® products mentioned above, you can find them at your local Walmart. The ones in I included were found in the Candy aisle and the Refrigerated aisle at a very affordable price. If you'd like, there will be a Walmart in-store demo on these products in May. Find out if your store is participating.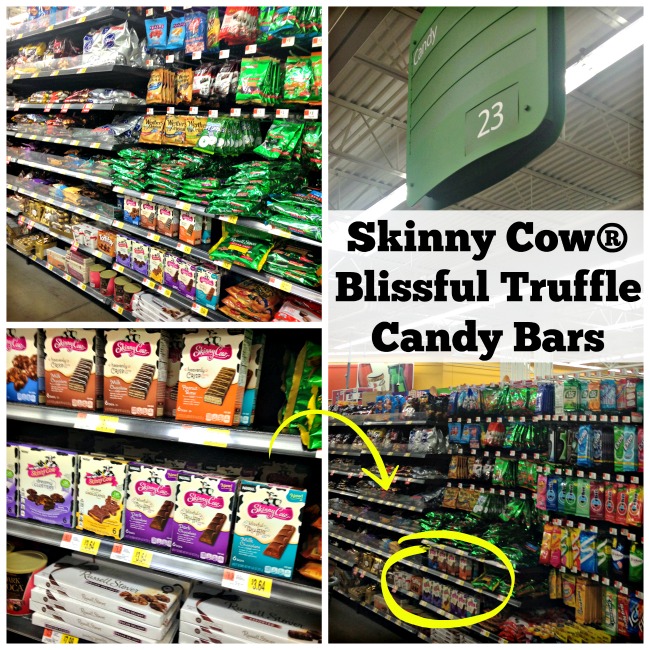 Skinny Cow® is So Impossible. So Good.™
Connect with Skinny Cow
Facebook // Twitter // Pinterest // Instagram // YouTube
Which Skinny Cow® product would you like to try most?
Pin it for later: