I don't know what your mom loves but I know that my mom loves candy. Not really chocolate candy but hard fruity candy. I have many memories of my mom eating candy and not being able to make it last. The loud chewing of hard candy and picking out her favorites in bags and boxes. I am positive her sweet tooth has been passed down to me. I am most likely passing it down to my daughter.
[Tweet "A generational sweet tooth is a thing right? #YumEarth"]
So obviously the #1 organic candy in America – YumEarth is the best bet for a Mother's Day gift for my mom. Instead of just giving her bags of YumEarth candy, it is nice to put a bit of effort into her gift. A lollipop bouquet is a fun idea. She can place it on her table or counter at home and eat a lollipop when she is craving something sweet.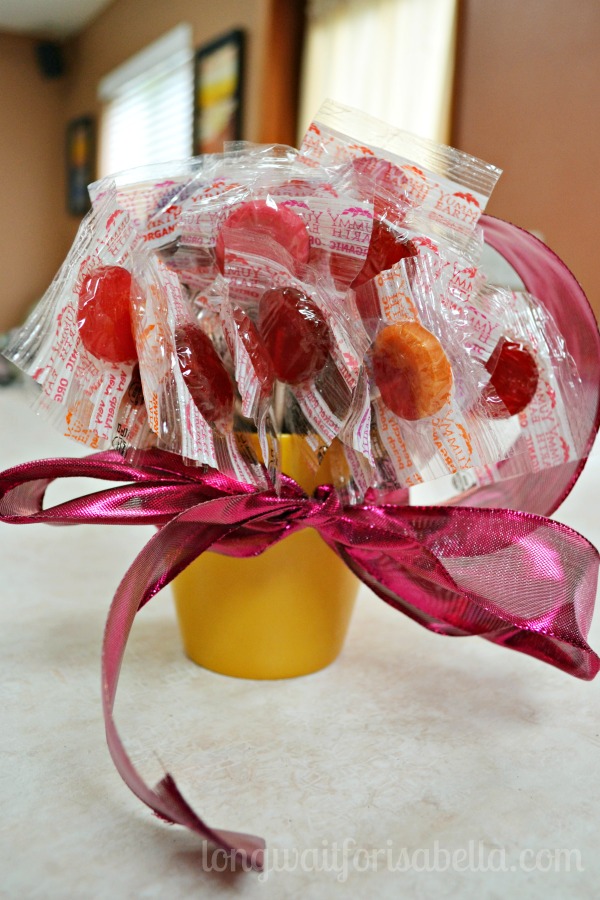 I simply bought a small ceramic planting pot, added some green crafting foam inside and stuck the lollipops all around. I used up a 40+ pops bag making my mom's lollipop bouquet. I added a shiny pink ribbon to make it even nicer. Quick and easy, but I know she'll love it!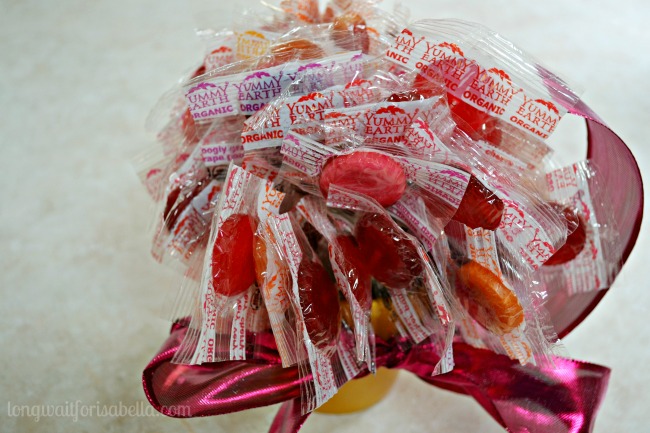 What is on your mom's wish list this year? Or better yet, moms what is on your wish list?
Candy is a hit of course. I've also asked my kids for a garden statue and an Adirondack chair – so I can sit in comfort in our front yard while they are playing.
About YumEarth Organics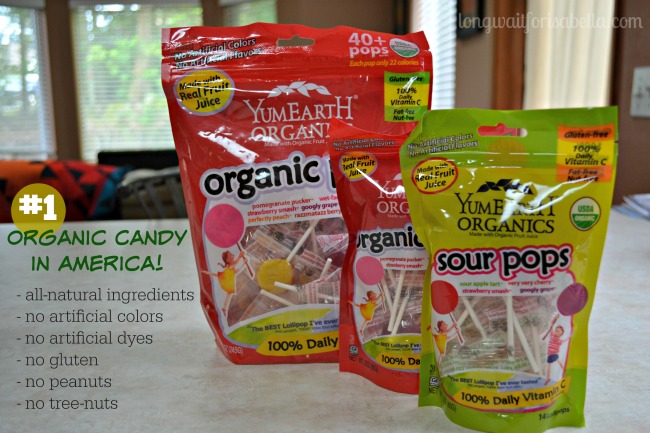 YumEarth is the #1 organic candy company in the United States and has international distribution in over 30 countries. YumEarth is dedicated to making great tasting treats with all-natural ingredients, no artificial colors, no artificial flavors, and no major allergens, such as gluten, nuts and dairy.
YumEarth offers over 20 unique flavors in their YumEarth Organics Lollipops, Gummy Bears, Gummy Worms, Fruit Snacks, Candy Drops, and YumEarth Naturals Sour Beans.
Connect with YumEarth
Facebook // Twitter // Pinterest // YouTube
Disclosure: I was sent the above product for review. No other compensation was given. All opinions are mine alone.