This post brought to you by Simply Potatoes. The content and opinions expressed below are that of Long Wait For Isabella.
I don't know about you all, but I am a huge potato fan. I grew up loving potatoes. My grandparents literally made them everyday for either breakfast or dinner and growing up four doors down from them on the reservation, I was there a lot.
Honestly, my favorite breakfast recipe is what we here call, Fish Hash. It is simply fried potatoes and salmon (leftover BBQ or canned salmon). I add onions, garlic, salt and pepper to mine now. Simply divine!
But today, I want to share with you an easy and fun breakfast or brunch recipe: Southwest Potato Muffins.
If you are like me, and are not a big fan of peeling and cutting or shredding potatoes, you're in luck! Simply Potatoes are freshly prepared potatoes made with real ingredients. You can find them in the refrigerated section. I found mine right by the eggs, in fact.
Southwest Potato Muffins
Ingredients
3 Cups of Simply Potatoes Southwest Style Hashbrowns
2 Eggs
1 Cup of Shredded Cheese
2 T of Sour Cream
salt and pepper to taste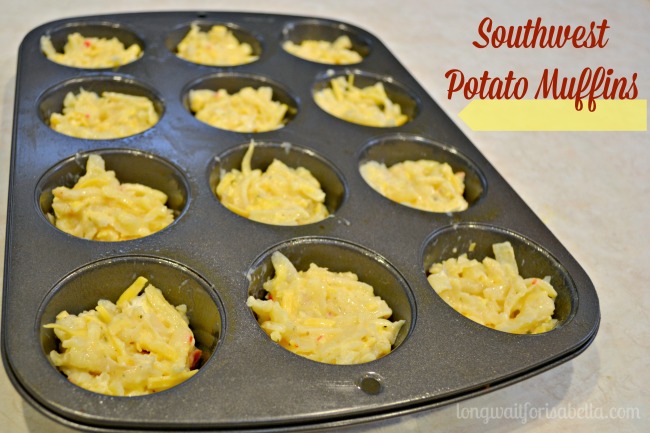 Directions
Mix all the ingredients together. Scoop into a muffin pan. Bake for 30 minutes at 350 degrees. Top with extra cheese, sour cream and salsa (optional).
What is your favorite breakfast or brunch potato recipe?
These are easy to make and very tasty. The whole family loves them. Plus, it is easy clean up. That is my kind of breakfast/brunch recipe.
Visit the website for more Simply Potatoes Breakfast Lovers breakfast and brunch ideas. You can also visit and follow Simply Potatoes on Pinterest for more ideas!
You're in luck! Simply Potatoes would like to give one lucky Long Wait for Isabella reader a one-month supply of coupons to try this great fresh potato product for yourself. Simply visit Simply Potatoes Breakfast Lovers page and tell me something, in a comment, you learned or would like to try. Open to US residents 18+. Giveaway Ends April 3, 2015.