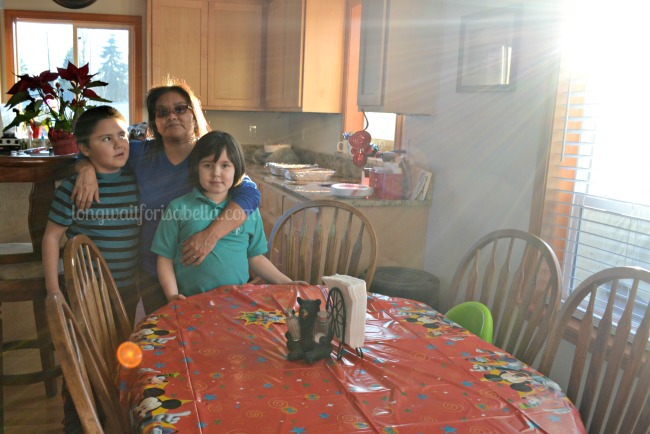 Disney sent me this awesome box of party supplies to host my own #DisneySide party. You know, through a party, showing my unique family Disney side. The box they sent was for a multi-generational party. I had every intention of throwing this amazing party for the Super Bowl. You know, the Seahawks were going back to the Super Bowl again, and our family was beyond excited. I started scouring the internet for ideas – Disney Football party ideas. Then at the last minute my parents, sister and husband got tickets to go to the Super Bowl. My party plans were squashed.
So instead of some fancy Disney football party with amazing images you could Pin, that would have for sure gone viral, I will share with you what our real family party look like. Here is our #DisneySide Family Birthday Party, Native American style.
[Tweet "A real Native American #DisneySide party. No pins please. LOL!"]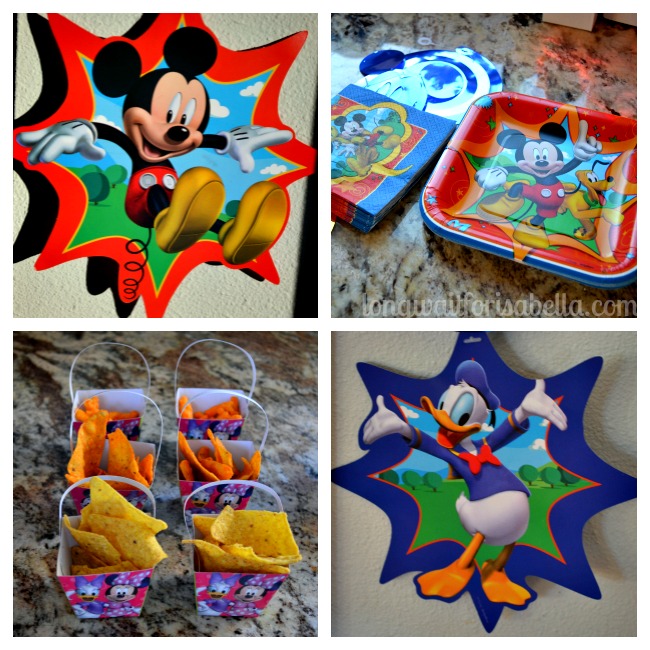 My Princess helped me hang up Disney decorations, we had fun themed plates and napkins, and I filled little favor boxes with chips. We cannot have a family dinner party without chips, it seems. Plus, the kids loved having them in little Disney boxes. Who doesn't love Disney? Our family has always loved Disney. My late grandmother even had a Mickey Mouse Native American watch. Which was handed down to me after she died. I love this watch.
Our family parties also, in addition to chips, have soda pop, paper plates, baked beans, and salmon. We have a family party usually every month and we also have BBQ salmon. Since our reservation is on the water, fishing has been and is a vital part of our culture. I gave up all other meat when I was 15 years old. I will never give up salmon.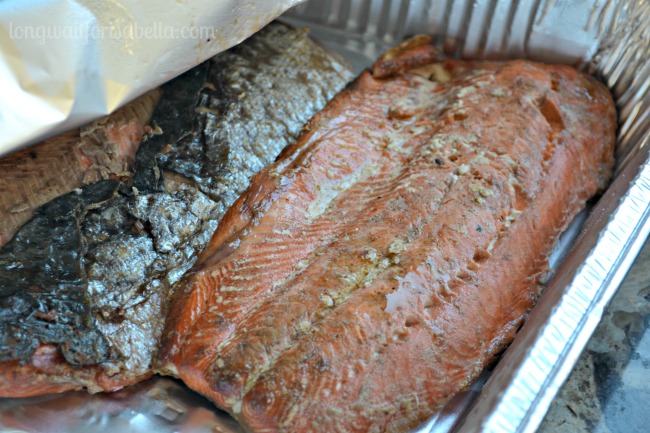 My almost 82 year old grandfather makes the salmon outside over a large fire – a traditional way. It always comes out delicious. My dad also makes the salmon in the same style — but it is not quite the same. Grandpa Mike is one of the oldest members of our tribe and praise the Lord very spry and healthy. I'd love to keep him around forever.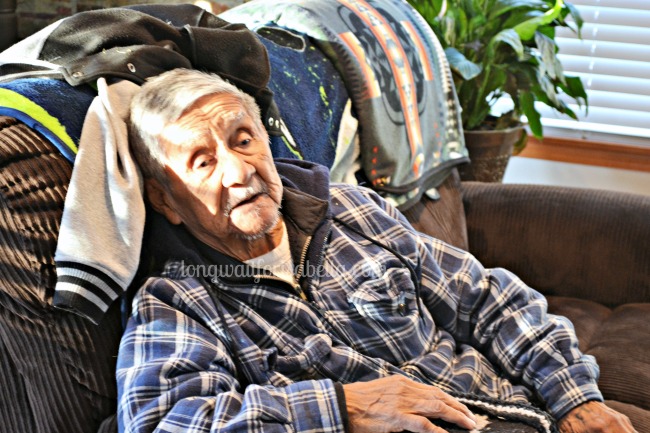 The weather has been great for us this winter. The sunshine was still out when we put the pizza in the oven. So the kids were able to play outside. My Little Man loves driving his convertible car around the backyard while his cousins play soccer.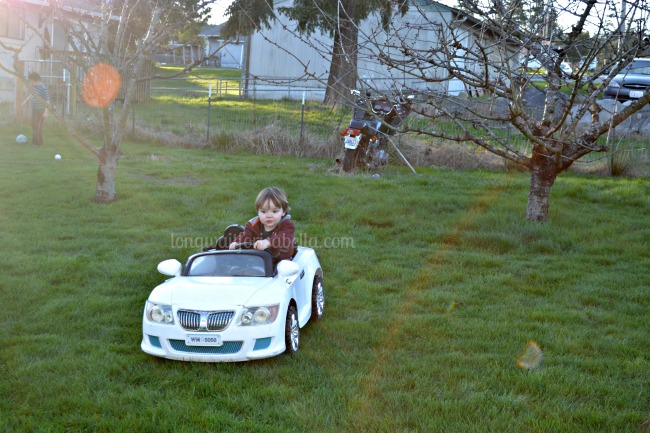 Watch out!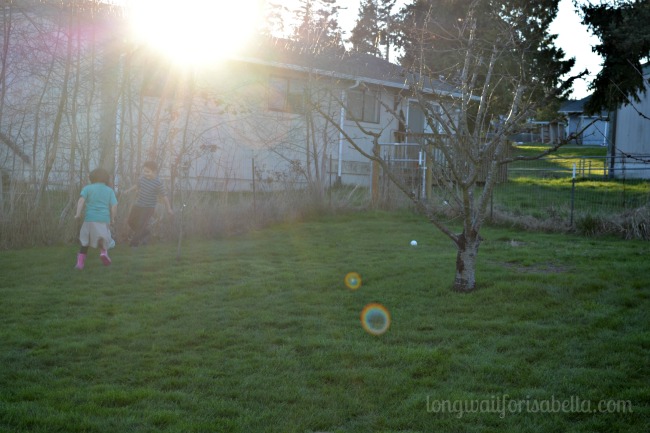 My Aunt, my dad's youngest sibling, was turning 45 and we were celebrating with her. Because she is less than a decade older than me, I have a lot of memories with her growing up. My grandparents lived three houses down from me in our village and I was at their house daily. I feel more than blessed to grow up with a large extended family all around me. Now, as an adult, I am thankful I can raise my kids here too.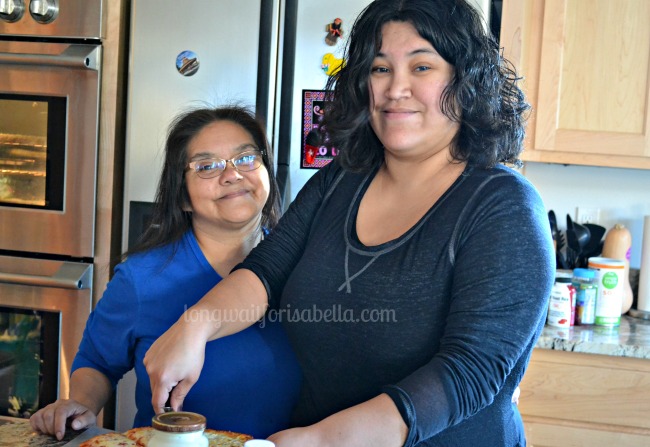 My grandpa made the fish, bought the kids pizza, and bought a birthday cake. Even at 81, he is still taking care of us all.
Happy Birthday Aunt Michelle!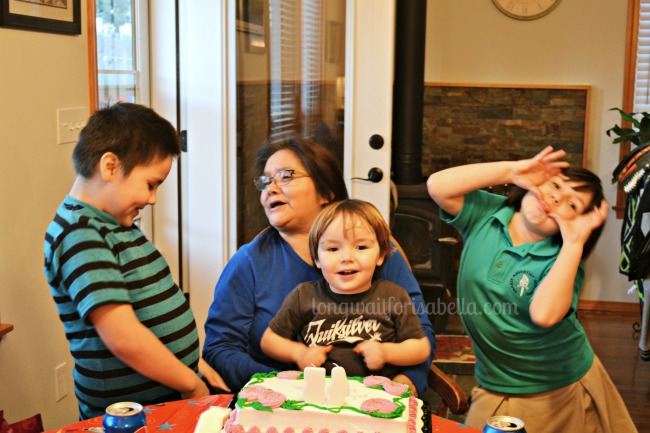 We could not get a picture where everyone was looking at the camera at the same time. But that's ok. This is more "us" anyway!
What do your family party traditions look like?
Disclosure: I was was sent party supplies for this post. No other compensation was given. All opinions are mine.