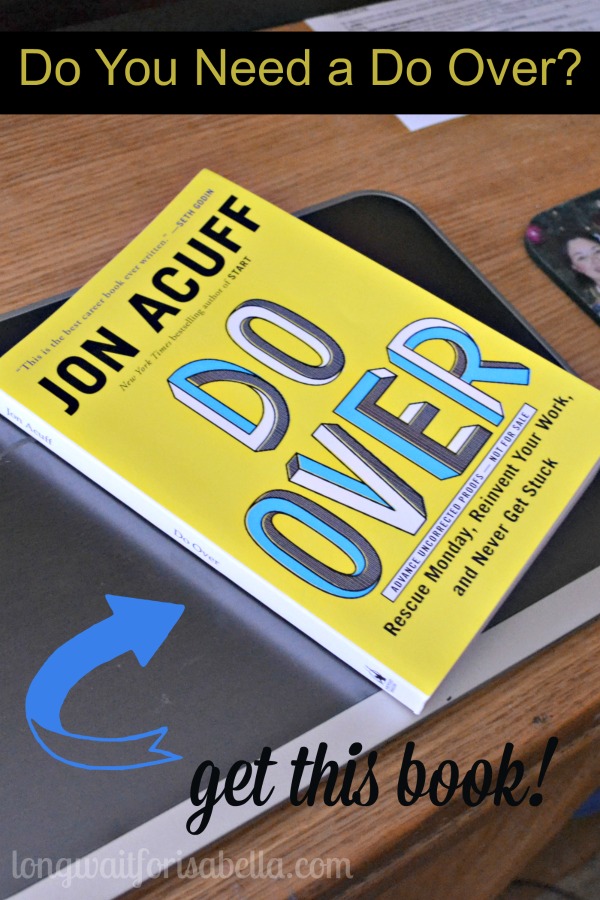 Do you ever have a difficult time explaining how much you love a book to someone else? I love reading books, I don't always finish books, I often skip lots of text in books, but I seriously love reading books. This was my first Jon Acuff book. My husband has one he loved reading but I didn't think this was my "genre". Boy, was I wrong. I am now Jon Acuff's newest Facebook follower and I hit like on all his posts. I feel like we're friends. Like I know him now. That's how I know he is a great writer. He has this awesome way of connecting with people in his writing and now I am hooked.
Do Over.
I wasn't sure what the newest book from Acuff would be like. I let my husband read it first. But over the weekend, I sat down and read it. And you know what? It blew me away. I have notes now. Things I want to do with this little old blog. Ways to grow and succeed. All because Jon Acuff wrote this awesome book, Do Over.
Do Over is a guide to making big career changes. Acuff gives very practical advice how to make this huge and often times necessary change. What's great is that he is able to share this information in a very entertaining way. He introduces a new concept: The Career Savings Account.
[Tweet "(Gang+Awesome+Nice) x Grind = Career Savings Account #DoOver @JonAcuff"]
This books shares how to intentionally build an amazing career using four investments:
Relationships
Skills
Character
Hustle
According to Acuff, all successful careers have these four characteristics and he does a great job at explaining how to improve and build on these four things. In fact, at the end of each chapter he has a "Remember" section. That small section of the chapter is gold. If you'd like to make a career change (or maybe you have to make a career change) you MUST get this book.
[Tweet "If you want to (or have to) make a career change, get this book! #DoOver @JonAcuff"]
Blogging started out as a hobby — a way to keep family informed on our life. It has since become a small business. A fun business that I get paid to do. I love it. It really has become a career change for me; a change that wasn't planned. But now, that I've realized this, I have my Do Over "note cards". I am going to concentrate on investing into my own "Career Savings Account. I am going to succeed at this even more in 2015. So thank you Mr. Acuff. I am excited to see growth in this career!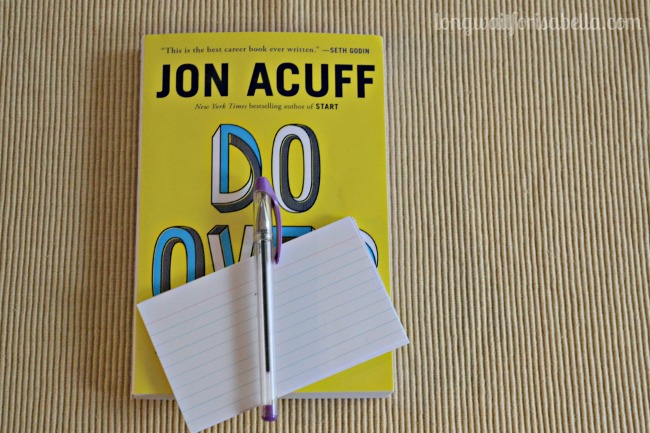 This book is available for pre-buy right now on Family Christian. (It comes out April 1st.) Head over there and pre-buy it and it will ship once it is available.
Connect with Family Christian
Facebook // Twitter // Google+ // YouTube
Win $25 Family Christian Appreciation Certificate
One lucky Long Wait For Isabella reader will win a $25 Family Christian appreciation certificate. You can get this new Jon Acuff book! Enter the Rafflecopter form below for your chance to win. Open to US and CAN residents 18+.
Disclosure: I am a Family Christian Blogger. The above product was sent to me for review. No other compensation was given. All opinions are mine alone.