Get ready to "Russell!" 
Fandango, the nation's leading moviegoer destination, and Air Bud Entertainment are proud to announce an all-new movie from the creators of the beloved 'Air Bud' and 'Buddies' franchise — RUSSELL MADNESS.  As part of the Fandango Family Screening Series, Russell Madness released to home entertainment on March 10 from Twentieth Century Fox Home Entertainment.
The hilarious, all-new family adventure is the first feature film from newly-launched Air Bud Entertainment, the creative force behind the #1 live-action, direct-to-video movies in the family category.  The exciting action-packed adventure introduces 'Russell,' an adorable TALKING Jack Russell Terrier who accidentally becomes a professional wrestling superstar, on the way to discovering the true power…of family.
Synopsis
RUSSELL MADNESS tells the story of Russell, an undersized but big-hearted terrier who dreams of having a family of his own. After running away from his pet store, Russell gets taken in by The Ferraros, a family desperate to revive their grandfather's pro wrestling arena. That's when they discover their new pet pooch has incredible wrestling skills. With help from his coach, Hunk, a savvy and hilarious monkey, Russell rockets to the top of the pro wrestling world and becomes a famous sports superstar. But when a dishonest promoter double-crosses the Ferraros, Russell will face his biggest challenge and discover that the strongest tag team is family.  RUSSELL MADNESS is rated 'PG' by the Motion Picture Association of America (MPAA).
Free Russell Madness Printables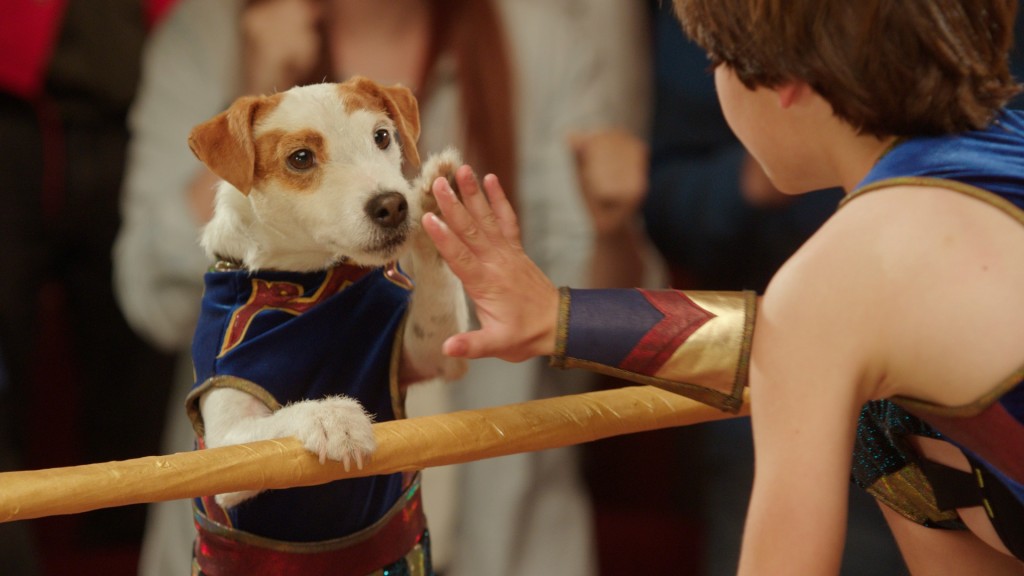 Buy Russell Madness
You can purchase Russell Madness today at Amazon.com:
Win Russell Madness
One lucky Long Wait For Isabella reader will win their own copy of Russell Madness on Blu-ray. Enter the Rafflecopter form below for your chance to win! Open to US and CAN residents 18+.
About the Fandango Family Screening Series
Beginning February 21, 2015, Fandango will debut RUSSELL MADNESS in top market theaters as part of the Fandango Family Screening Series, a nationwide promotional program offering families free exclusive advance movie screenings, plus free snacks, goodies and a chance to win prizes and other fun surprises.   The film will be shown in cities such as New York, Philadelphia, Boston, DC, Atlanta, Dallas, Chicago, Seattle, San Francisco and Los Angeles.  More information about the RUSSELL MADNESS screenings is available at Fandango.com/RussellMadness, and parents can sign up to be notified via email when it's time to reserve seats for this special event.
About Air Bud Entertainment
Air Bud Entertainment (ABE) is the company behind the brand most well known for the beloved AIR BUD and BUDDIES franchise. For nearly 20 years AIR BUD and BUDDIES has become the four-paw icon of this generation and part of the social fabric for children, parents and grandparents. ABE'S exciting new productions will be available across numerous multi-media and digital platforms.
About Fandango
Fandango, the nation's leading moviegoer destination, sells tickets to more than 25,000 screens nationwide. Fandango entertains and informs consumers with reviews, commentary, celebrity interviews and trailers, and offers the ability to quickly select a film, plan where and when to see it, and conveniently buy tickets in advance. For many theaters, fans can print their tickets at home or receive them as a paperless Mobile Ticket on their smartphones. Fandango's top-ranking movie ticketing apps, with more than 44 million downloads, are available on the iPhone and iPad, Android, and many other platforms.  Fandango is enjoyed by more than 30 million online and mobile visitors each month, according to comScore.  Film fans also find Fandango on Facebook at www.facebook.com/fandango and on Twitter @Fandango.
Disclosure: I am a FHE Insider. I received the above movie in exchange for this post.