Thank you Depend for sponsoring today's post about the #dropyourpants #underwareness campaign.
Did you know there are 65 million people suffering from bladder leakage each year? In fact, maybe you suffer from bladder leakage. I have an aunt who purchases products each month at the store for light bladder leakage. There should not be embarrassment associated with this health condition. In fact, it is pretty normal. Just not talked about often. Another close family member began suffering from bladder leakage after her second child. Wearing pads has become the norm for both family members.
[Tweet "There are more people with bladder leakage in their 20's than their 80's! @Depend #underwareness"]
Do you or someone you know suffer from bladder leakage?
If so, I have some great news to share. Depend has a great new campaign – Underwareness. (Clever, right?)
For each of our photos or videos shared, and every tweet or Instagram post tagged #Underwareness or #DropYourPants, Depend® will donate $1 to the Simon Foundation for Continence and United Way — up to $3 million over 3 years†.
†Up to $1 million per year
What to Wear for Bladder Leakage
Depend provides a variety of discreet products that help people regain their freedom and get their lives back, including:
Depend Real Fit for Men and Silhouette for Women briefs: Look, fit and feel like real underwear and feature a cloth-like fabric for a sleek, ultra-smooth fit.
Depend Underwear with Fit-Flex protection: Features more Lycra stands for a smooth and comfortable close-t0-the-body fit.
Free Sample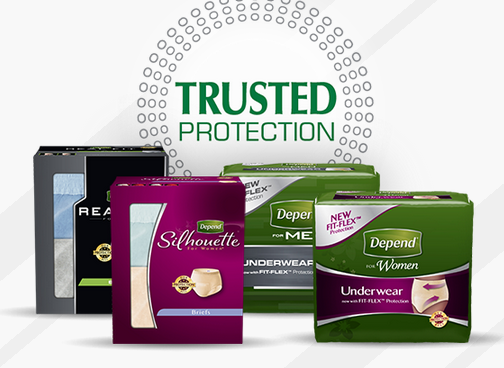 Claim your free samples today by visiting the Depend landing page and clicking on the "Get a Sample" button located at the top right-hand side of the screen. Then, select which sample you would like to receive and wait for them to arrive.