I have written about financial topics on the blog a few times the past year. What many of you might not know is that my husband, who has his MBA, loves anything that has to do with finances and saving. He is a bit known, in our circles, as a cheapskate. But honestly, he isn't cheap, he is very smart with money. I am thankful to be married to him. We have a great savings account, own our home and vehicles, and we are maximizing our retirement plans and college savings accounts for the kids. This year we are focusing on giving. More giving.
We have a large selection of books about finances and living within your means. The newest addition to our collection of great finance books is Live Your Life For 1/2 The Price by Mary Hunt.
[amazon_link asins='0800721470,0800721411,0800721446,B00GHXRF5W,0800723929′ template='ProductCarousel' store='wpplugin01-20′ marketplace='US' link_id='1948876a-d2d5-11e7-ab1f-21adfb7efc0a']
Live Your Life for Half the Price
As my husband and I both read through Mary Hunt's book, we were thankful to reaffirm many of the practices we already do to save money. Though we didn't learn anything "new" in this book from Hunt, we loved to revisit these old practices and find new ways to share with others in our family and community.
Many people in our country are living paycheck to paycheck, over-spending, not living with a budget, and living outside their means. The debt is mounting. Divorce, due to financial troubles is frequent. This new book from Mary Hunt is timely. These ideas, though not new, are so important for us all no matter our financial situations.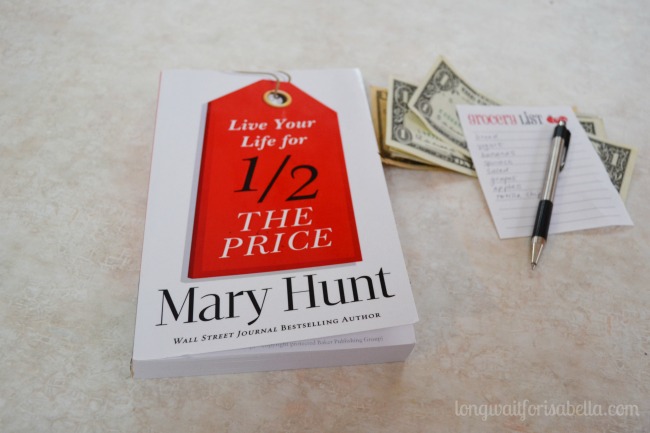 I love that Hunt shares some of her own personal stories in this book. But what I really love seeing is practical advice. Things that people can actively do to help them live on less. There obvious ways to have more money each month are:
ask for a raise
sell assets
live on a budget
Hunt also encourages her readers to live on 80% of their income — give 10% away and save 10%. I've always been a big believer in this 80/20 rule. At the start of my own marriage my husband and I chose to give our 10% back to God (in the form of tithe and offerings), and God has honestly blessed us our entire marriage.
I love the ways she shares to live on less. Many of them I am doing and a few were reminders to continue doing. I am a food lover so my favorite sections to read in this book were those related to food.
[Tweet "Personal Stories. Practical Advice. Save Money Easily."]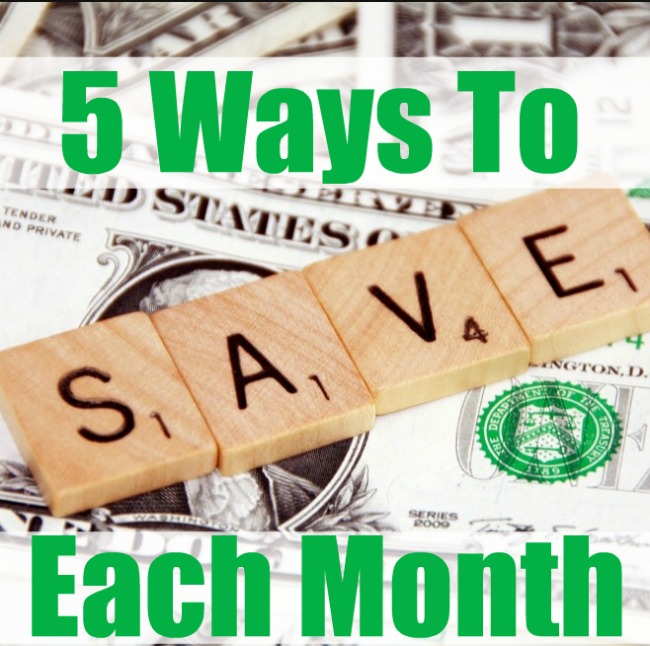 Here are five ways to easily spend less each month:
Use cash only (some prefer the envelope system – spending only what's in the envelope each month for each category). Using cash lets you visibly and tangibly see where your money is going.
Shop second hand – I am a big fan of thrift stores, consignment stores, and eBay. We've also purchased our last two vehicles on Craiglist. I let those people take the huge depreciation on the vehicles.
Shop the Sales – use that weekly flyer for you food shopping. This is one area I need to be better at. A large part of our monthly budget goes to food in our home. I need to be shopping the sales and planning my weekly menu based on what's on sale. This is such a great tip!
Cut Your Eating Out – instead of getting that latte everyday or eating out during your lunch break, invest in a coffee maker and pack a lunch. You'll be amazed when you see the figures you'd save.
Switch to a No-Contract Cell Phone – we've loved our no-contract plans for the past few years. We get a great amount of data for a low price and no contract.
These are just five ways you can find in Live Your Life For 1/2 The Price by Mary Hunt. There is so much more in this book. If you need financial help, or if someone you know could use help, please get this book. Mary Hunt has spent decades helping people get out of debt. She knows what she is talking about!
What changes can you make to save money each month?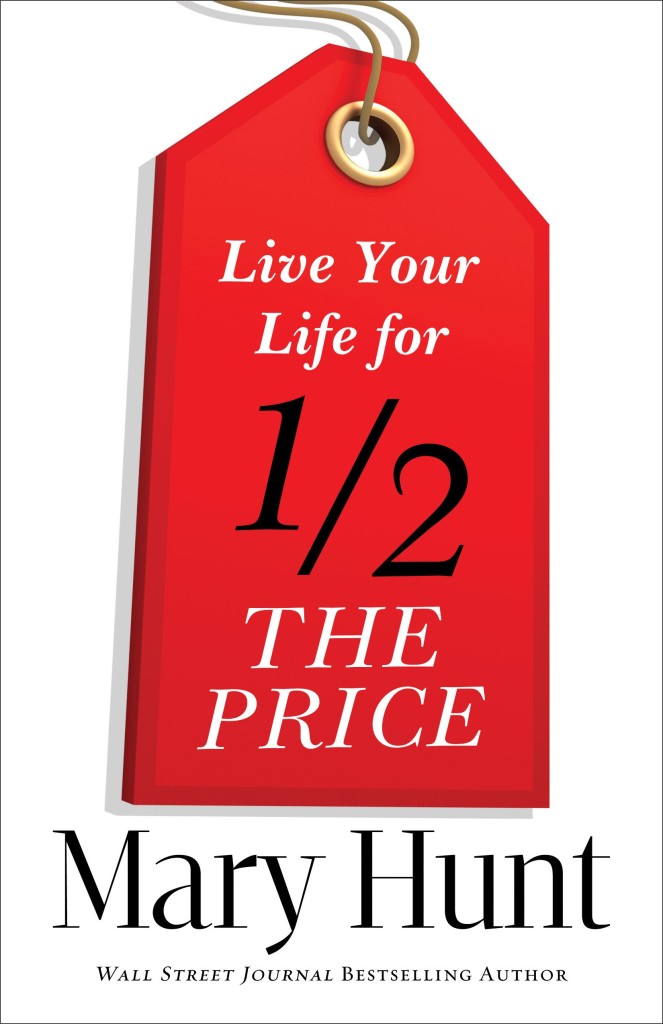 Disclosure: I was sent the above book for review. This is a sponsored post. All opinions are mine.