Do you believe that regular family worship time, spent together each day, can drastically change your home? I sure do. Life gets busy. I know. There are days we have missed family worship too. But, I cannot say it more plainly – family worship is essential. It helps our children learn the way they should walk as the grow up — to love God, to follow God,  and to live for Him.
I grew up in a Christian home. My mom read us a devotional each morning and usually each evening. We sat and listened and prayed together. Sometimes the devotional was interesting, many times my mind wandered. I am still thankful my mom took that time to read and pray with us. Now that I am a parent, I want to do this faithfully with my own kids. But, I want to give them even more. I want to give them an exciting and fun experience with the Bible and the Bible's wonderful stories.
8 Ways to Make Family Worship Come Alive
make sure the content fits the audience (use age appropriate Bibles and books)
use props in your storytelling
act out the Bible story
use visual aids (like the Bible Atlas)
assign characters to each family member to read
sing songs that relate to the Bible story
give out a memory verse and use incentives
find movies that relate to the Bible story
What other ideas can make family worship come alive?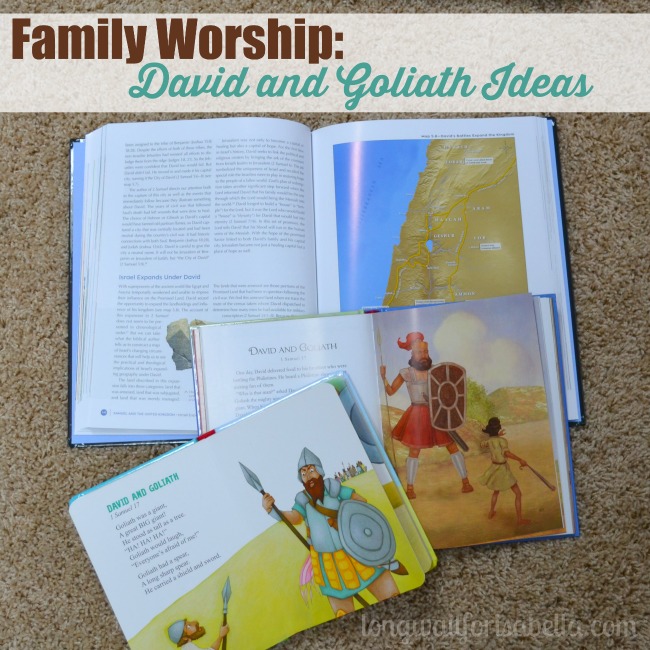 Practical Application: Here's what a fun family worship for kids looks like when using the Bible story of David and Goliath as an example.
I have two different books I will use to tell the story – one appropriate for my daughter and one appropriate for my son. But they can enjoy them both.
I can use the Bible Atlas as a visual aid to share more about the life and times of David.
I can share with the kids how big Goliath was (6 cubits = 9 1/2 feet!) and give them a paper prop to compare their own height to his.
We can act out the story this week with the kids taking turns being David while Daddy is Goliath.
We can practice my Princess' reading by letting her read the toddler version of the story in different voices to us.
Our memory verse for the week can be easy: "The battle is the Lord's." (1 Samuel 17: 47) and if the kids learn it they can get a special treat like Rock Candy.
We can sing, "Only a Boy Named David", and do the motions.
We can watch VeggieTales: Dave and the Giant Pickle.
Do you see how with a bit of planning you can have an exciting fun family worship for the entire week? The kids will love it, and they'll remember loving in when they are adults. Pay attention to the kids, if they are getting bored, change it up. Don't be afraid to ask for their input – they are part of the family too.