My daughter is now in first grade and I ask her every day how her school day was. She is still at the age where she loves to give me all the details and honestly, I love hearing those details. I know all her friends by name, just not by face, and I know the animals they pretend to be at recess. Her closest friends pretend to be a cat and bunny every time they play. But my Princess loves to pretend to be a dog. She LOVES dogs.
When I was a girl there was a toy that I loved, I am sure you all remember the 1980s toy — Pound Puppies. I had a black and white pound puppy that I loved. It came with an adoption certificate. I kept that doggie for years, even after I outgrew playing with stuffed toys. Now, my seven year old daughter also loves Pound Puppies. I think it'd be fun to have a Pound Puppies Party this year for her birthday. A puppy themed party is also a great gender neutral party idea, don't you think?
Here are some great Pound Puppies Party Ideas:
First, call it a Pound Puppy "Pawty". It sounds so cute and it is a fun play on the word Party. That Party Chick has this idea and so many more!
Decorations
1. Puppy Balloon Animals are such a cute idea!
2. Rolled up Newspapers
3. Chew Toys
4. Pull Toys
5. Doggie Paper Plates (you can add construction paper ears to the plate)
6. "Wipe Your Paws" sign by napkins
Adoption Center
You cannot have a Pound Puppies party without having an adoption center for the kids attending. Oriental Trading sells 24 little puppies in this cute kit. Don't forget Adoption Certificates too!
Activities
1. Make Your Own Dog Collar – get creative and put out pipe cleaners and beads. Kids can have fun making their own collar for the puppy they "adopt".
2. Veterinarian Check Up Station – a table with fun play vet tools. The kids can give their newly adopted puppy a check up. This station could also have gummy bears for "Puppy Vitamins" as a small favor.
3. DIY Dog Headbands – this is another great craft idea for the party. The Crafting Chicks had this idea and so many more. You MUST visit this site to get great ideas!
4. Pin the Tail on the Puppy
5. Watch a Pound Puppies DVD – Puppy Love is the newest Pound Puppies DVD coming out from Shout! Factory and they have five others to choose from!
Food Ideas
1. Serve party food in dog bowls – you can find these at the Dollar store and it'll just look so cute!
2. Hot Dog bar
3. Kibbles and Bits – sweet and/or salty party mix
4. Puppy Chow – chocolate puffed cereal, or even a homemade muddy buddy recipe
5. Puppy Do-Do – chocolate covered peanuts
6. Bone shaped sugar cookies
7. Scooby-Doo! Graham Snacks
 can be found at your local grocery store or on Amazon. 

8. Puppy Cake Pops – Hoosier Homemade uses pound cake and a heart shaped cookie cutter to make these amazing cake pops. You'll also find step by step instructions to make them at your house!
9. Paw Print Cupcakes – I choose to feature this cake idea because it is so easy! Frost in white and use Junior Mints and Chocolate Chips to make a puppy paw. So cute and so simple – my kind of cupcake.
Favors
1. Doggie Bag – calling your favor bag for the kids a "doggie bag" is such a cute idea
3. Give a book – great books I recommend would be Ultimate Puppy Sticker Book
and Fancy Nancy: Puppy Party
.
Doesn't a Pound Puppies Party sound like a fun party to attend?
Pin it for later: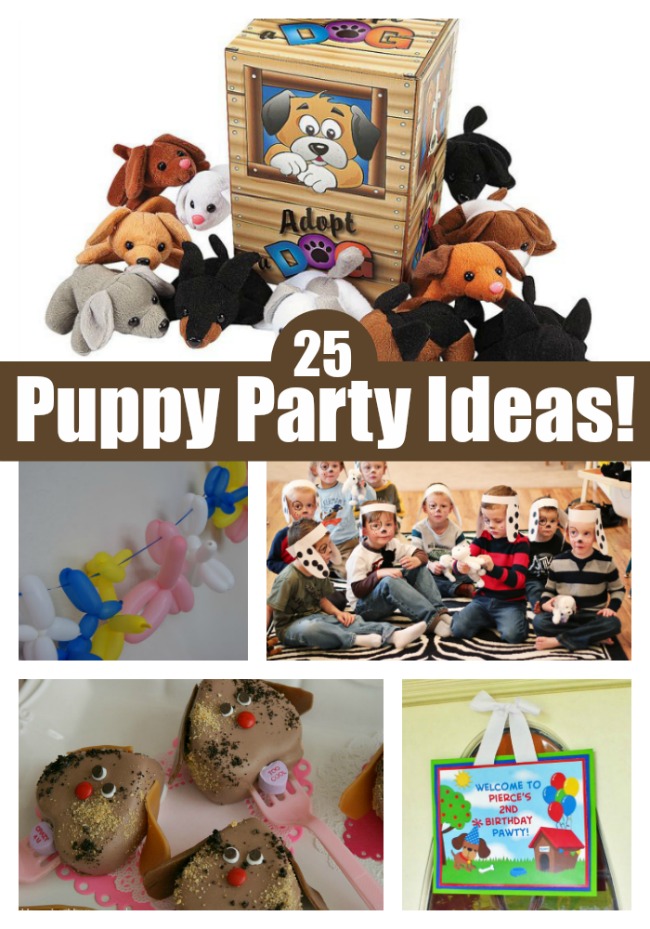 Connect with Shout! Factory
Facebook | Twitter | Instagram | Pinterest
Disclosure: I was sent the above Pound Puppies DVDs. No other compensation was given. My love for Pound Puppies is all my own!