With the New Year upon us all, I know many have made resolutions. You might not have declared those resolutions yet, but in your mind I am sure you are making decisions on doing better in your life in some areas. That is what is so great about the New Year. It gives us a chance to reflect on the past year and enables us to make the necessary changes that can make 2015 even better.
This is why I love books like You Can, You Will by Joel Osteen. Books like this make it easier to make changes in our personal and spiritual life.
In YOU CAN, YOU WILL, Joel Osteen shares eight undeniable qualities of winners that can help you to reach your potential and achieve new levels of success in your life. You are created to be a winner. Get these eight principles deep down on the inside and boldly go in the direction of your destiny.
Keep Your Vision in Front of You – Dare to dream big dreams.
Run Your Race – Focus on your unique course and goals.
Expect Good Things – Anticipate great opportunities.
Have a Positive Mind-set – Take control of your thoughts and attitudes.
Commit to Excellence – Do your best and maintain high standards.
Keep Growing – Be proactive, be intentional, build on your gifts, and continually improve.
Serve Others – Invest yourself in others.
Stay Passionate – Light the fire within and approach life with enthusiasm.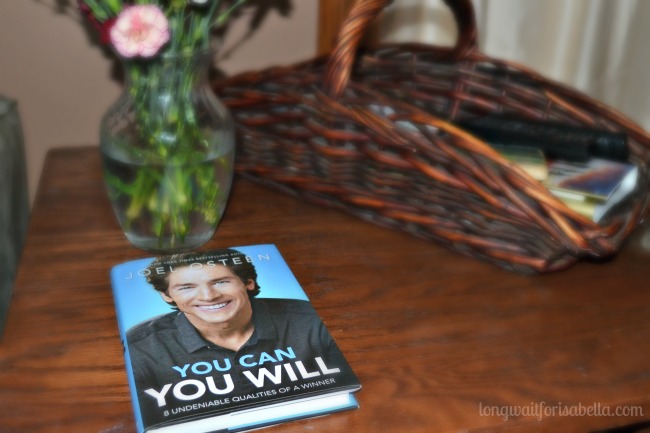 My husband and I both really like this book. It is practical and motivating for our Christian walk. You Can You Will reminds us that with God all things truly are possible. And yes, He wants us to live that abundant life He promised. This is one book that will stay on our bookshelf for years so we can re-read it again.
Buy You Can, You Will: 8 Undeniable Qualities of a Winner by Joel Osteen
This great book is available for purchase at Amazon.com right now!
About Joel Osteen
Joel Osteen is the senior pastor of Lakewood Church in Houston, Texas. Listed by several sources as America's largest and fastest-growing congregation, Lakewood Church has approximately 45,000 adult attendees every week. Millions more watch Joel's messages as they are broadcast on national and international television networks. He resides in Houston with his wife, Victoria, and their children. You can visit his website at www.joelosteen.com.
Disclosure: I was sent the above product for review. All opinions are mine.