My Princess is reading a lot better now that were a few months into first grade. She still doesn't love it, but she is doing pretty good with it. Unless you make her read, she will always ask you to read for her. I do my best to make her try to read all the signs and directions and titles we come across now. She fights it still. But every now and then, I catch my Princess next to her little brother reading to him. He LOVES books and always wants to be read to.
I am a big fan of books. I devoured them as a child and still read when I get the chance. I wish I had more time in the day to read. I truly do love it. I am hoping for her to catch the reading bug. The joy you get from being so engrossed in a book – hoping it never ends…
Did your kids love reading from the start?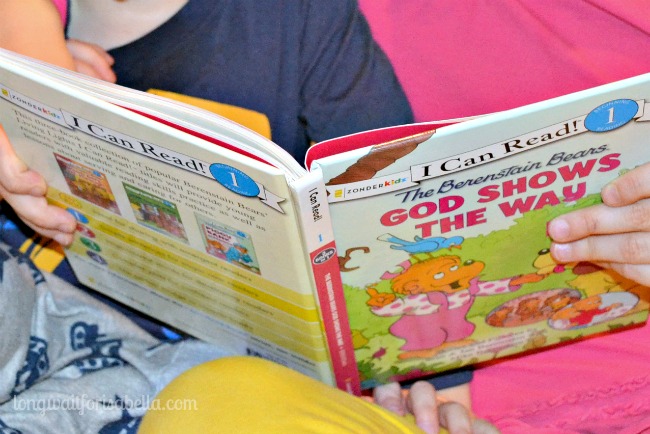 To practice her reading skills, I am glad that we have a great collection of Level 1 Beginning Reading books for her. She has a bookshelf with many from this level, including The Berenstain Bears God Shows the Way. Does your family love The Berenstain Bears as much as we do? We have many videos and books and we even have a Brother Bear and Sister Bear stuffed animal for each of the kids. We often carpool with my parents to church, and even my dad watches their cartoons with the kids on the drive up. We all get into these fun stories whether it is in books or on video. They are just so lovable. It is my hope that with quality products like The Berenstain Bears books, that my daughter will enjoy reading at least a bit more.
About God Show the Way
This hardcover book has 3 books in 1. You will find Faith Gets us Through, Do not Fear, God is Near, and Piggy Bank Blessings in this I Can Read! Level 1 Reader collection from The Berenstain Bears. I appreciate the faith based content in these stories. Though, my Princess has some secular books with other characters she loves, I am very glad we have faith based readers for her. These are the kinds of stories I want her reading and falling in love with.
Buy The Berenstain Bears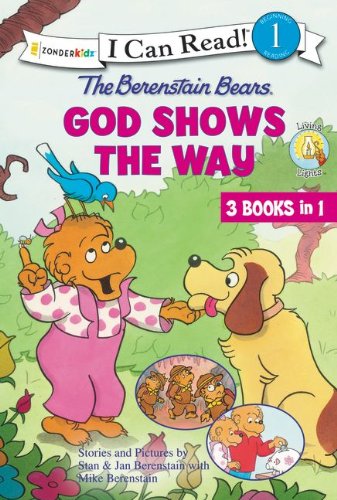 You can find many Berenstain Bears books, including a large selection of Level 1 readers, on FamilyChristian.com.  These books are great for kids and families to read together this New Year.
Connect with Family Christian
Facebook // Twitter // Google+ // YouTube
Win $25 Family Christian Appreciate Certificate
One lucky Long Wait for Isabella reader will win a $25 Family Christian Appreciation Certificate. For your chance to win, enter the Rafflecopter form below with your Facebook account or email address. Open to US and CAN residents 18+.
Good Luck!
Disclosure: I am a Family Christian blogger. I was sent the above product for review. This post is sponsored. All opinions, including my love of The Berenstain Bears is mine alone.