#spon: I am in a partnership with Intel. Through this partnership I gain access to content, product, or other forms of value.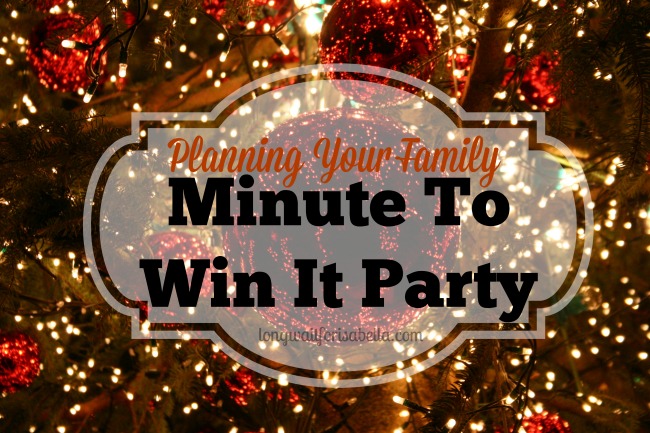 This Christmas Eve my family is going to do something different. I've mentioned before that our tradition usually includes a Christmas Eve celebration with our tribal community followed by an evening of dessert and games with our extended family. This year, my mother had the fun idea to have a Minute To Win It Party for Christmas Eve. We'd serve potluck style finger foods – like sandwiches, roll ups, fruit, and chips. We'll play about 12 games and have prizes and we'll finish the night with desserts. I am pretty excited!
What is Minute to Win It?
Minute To Win It is a gameshow that began on NBC and then was picked up by GSN. There are ten challenges using household items and a chance to win 1 million dollars! The popularity of this game show has influenced family, school, church and work parties. Minute To Win It parties have become increasingly popular. Fun, competitive games with common household items, that are timed. How could it get more fun than this? 
So, the last couple weeks, my mother and I have been planning which games we like and decided on prizes. I don't know about you but I am seriously thankful for technology – specifically Intel All in Ones, the internet, photo editing, and Pinterest. My goodness, how in the world did we plan parties effectively before this digital age? We are expecting about 30 for our Christmas Eve party. So if you are planning your own MTWI party, get your guest list, plan your games, get your prizes, plan your food, and have a blast!
Minute To Win It Party Game Ideas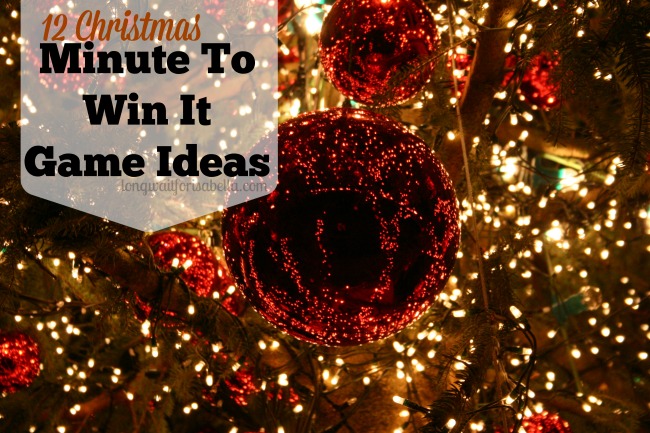 Our family will utilize a team of two players for most games. Here are 12 game ideas you can also use if you are planning a Minute To Win It Party.
Eat the Cookie – place cookie on forehead, slowly move it down to your mouth, without using your hands. First person to eat the cookie wins.
Christmas Kiss – team places ornament between their lips and hooks it onto a string. First team to get three in a row wins.
Snowball Fight – using ping pong balls and a target, the first team to know down the target, bouncing their ping pong balls wins.
Chopsticks – participant that picks up the most mini marshmallows with chopsticks in 60 seconds wins.
Fishing Game – attach a large candy cane to a chopstick. Use this as your "fishing pole". Using only your mouth, hook four smaller candy canes on the "hook". First person to hook all four wins.
Rudolph's Nose – apply vaseline to participant's nose, give participant a string with red pom pom attached, first participant to get the pom pom to attach to their nose wins; no using hands only swinging allowed.
Junk in the Trunk – using an empty tissue box, fill it with either ping pong balls or ornament balls, attach it around participant's waist with string. Instruct the participant to dance around until all the balls are out of the box.
Christmas Bags – get five Christmas bags of varying height, participant must bend down and pick bag up with their mouth, the participant cannot touch ground with anything other than their feet and the bag with anything other than their mouth. First participant to get all five bags to desired location wins.
Deck the Balls – using an empty wrapping paper tube, participant must use their mouth to suck the Christmas ornament on other end of tube and hang it on wire. First team to hang 5 ornaments wins.
Snowball Toss – using large marshmallows and a bucket the first team to get 10 in bucket wins.
Christmas Roll – using a empty wrapped box and an ornament, the participant must use the box as a fan and "blow" the ornament across the floor to desired location.
The Nut Stacker – first participant to stack 8 nuts (hardware store nuts) one on top of the other, using only a candy cane to stack, wins.
These are 12 games that I liked for my family. There are so many more you could choose from online. For more game ideas visit Christian Camp Pro, A Beautiful Vibrant Life, Your Home Based Mom, The Dating Divas, The Mason Family Blog.
Once my mother and I narrow down the 12 games and get the necessary supplies, I will be using my Intel AIO to create printables for the game. I can't wait to share with you how our party goes. It will be so much fun! Praise the Lord for a reliable and awesome all-in-one computer that I can plan such a fun Christmas party with. I really love the screen size, visually it helps with party planning. I am also finally getting used to the touch screen – I have been old school so long! Scrolling through party ideas is made easier with a touch screen. My home office is also my homeschool classroom so I need the space that a separate hard drive normally takes ups. In fact, in my large desk, I have our homeschool books where the hard drive is supposed to be placed. I love that an AIO literally has everything all in one rectangle, and not overly large computer screen.It blows my mind with how awesome it truly is. Homeschooling a first grader? Check. Blogging? Check. Planning Parties? Check. All at my finger tips with an Intel AIO.
[Tweet "Planning a Minute It To Win It Party is easy with my #IntelAIO. {I'm so blessed!}"]
Connect with Intel