This blog post is part of a paid SocialMoms and #HostessHoliday blogging program. The opinions and ideas expressed here are my own.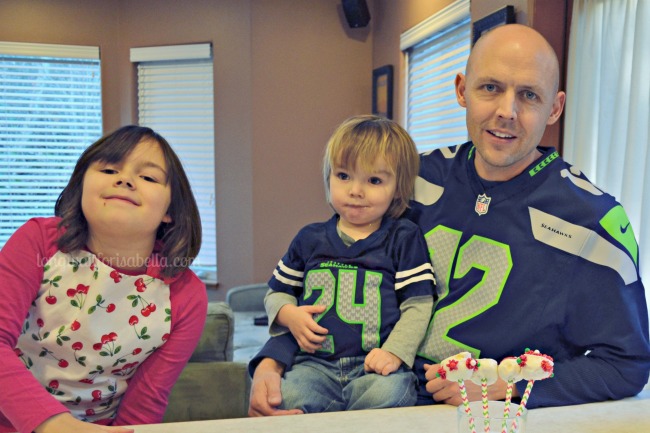 We have had such a great holiday weekend. This is one of my husband's very few weekends off from church. (Minister's families know how that can be.) So our Thanksgiving holiday was awesome. Thursday we gave thanks to God, ate a huge feast with 30 family members, and cheered on our home team (Seahawks) for a big win. We put up our Christmas tree and decorations on Friday. Saturday night we went to the drive-in theater for a kids movie double feature. Then, Sunday we had a great time using Hostess snacks for a DIY Ornament Bar. It was just one of those really great weekends with family.
How was your Thanksgiving holiday?
Each year my sister does a ginger bread house with our kids, but here at home, we planned something even funner (and easier for mommy) – an edible ornament bar. Sunday morning, we headed out in freezing temperatures (we are getting some cold weather here in the Seattle area, how's it for you?) to get some fun things to decorate our Hostess snacks with. At our local Walmart we found colorful icing, small candy coated chocolate balls, sprinkles, and even some gummy candy that pulled apart like strings. My six year old and I were both excited to create edible ornaments and the boys were most excited about eating them.
My Princess and I had fun decorating the DING DONGS and sno balls – turning them into an edible ornament was pretty fun. During decorating my Little Man just wanted to eat them. So finally after too many appeals on his part, I gave in and handed him an undecorated DING DONG. (I may or may not have called him a DING DONG for continually pestering me…)
I knew right from the start that I wanted to make cake pops with the Twinkies. Or as I like to call them – mini edible ornaments. I simply pulled apart the Twinkies in a bowl using my hands. I formed them into balls about the size of two or three bites (depending on who is taking the bite) and dipped them into melted white chocolate. I pushed a cake pop stick into them and let them dry on parchment paper. Once dry, I let my Princess decorate them to her heart's content.
Once were done decorating these Hostess snacks, the Hubby and Little Man came to the counter to enjoy the fruits of our labor. Taking a break from football, they were in heaven sampling our edible ornaments. These would make fun little treats to give to the neighbors for a holiday gift. Even the mailman, garbage man, and teacher would enjoy them as well, don't you think?
What fun food activities does your family enjoy at the holidays?
If you'd like to use the printables I created for the DIY Edible Ornament Bar you can find them in this PDF:
Edible Ornament Bar Printables
Hostess Holiday Sweeps

This holiday season, visit the Hostess Pinterest page for holiday inpsiration! And be sure to participate in the #HostessHolidaySweeps while you're at it. It's easy – follow all Hostess boards on Pinterest, re-pin your favorites, and be sure to use the hashtag #HostessHolidaySweeps in the caption. The grand prize winner will get $1000 Walmart Gift Card! There are also first and second prize winners. Don't forget to submit your entry here.
$100 Walmart Gift Card Giveaway
How would you like to make your own Edible Ornament Bar at your house. One lucky winner will get a $100 Walmart gift card. Enter the Rafflecopter form below for your chance to win.