My family and I spent a week driving around our small rural county in a beautiful Mazda CX-9. (Or what my two year old affectionately called 'the brown car', and no he didn't want to give it back.) This crossover SUV is amazing! The whole family enjoyed our time reviewing this vehicle.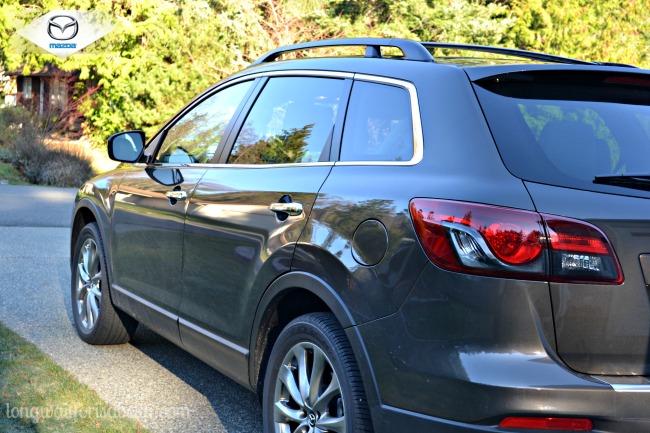 We ran around our small town on this crossover SUV and felt proud to be driving the Mazda CX-9. Most of our grocery shopping is done at Costco and I appreciated the fold down third row seating for all our groceries. The highlight of our week with the Mazda CX-9 was visiting our local drive-in movie theater. We were able to see a double feature with the kids. We were having colder than usual temperatures that week. We'd turn the car off for long periods, until we got too cold, and then turn the heat back on. It heats up quickly and the heated front seats were super appreciated! The four of us fit great and could easily see the large drive-in screen. Perfect!
I wasn't sure what to expect from a Mazda crossover SUV; I hadn't owned or driven a Mazda before this. The CX-9 honestly surpassed my expectations. Plus Mazda was named the lowest Cost to Own Brand for the second consecutive year by Kelley Blue Book's KBB.com in 2014!
Do you have any experience with a Mazda?
The 2015 CX-9 has a quiet and powerful V6 engine and is available in AWD or front wheel drive. We drove the all wheel drive model and got 16 MPG driving around our county. That is comparable to our older mini-van. Here are 10 features of the 2015 Mazda CX-9 AWD that I loved:
Heated front seats (We didn't get above freezing in the Seattle area that week.)
Driver's seat memory (I had my seat preferences saved as #1 setting so when I jumped in I didn't have to play with it at all.)
Automatic Headlights
One touch moon roof
Keyless Entry and Start System (Not using a key just feels cool, you know?)
Navigation
Bose surround sound
Rearview backup camera (How do I live with out this feature now!?!)
Blindspot Monitoring (I love that this car tells me when a vehicle is in my blind spot.)
Three zone climate control (because well all like our own temperatures in this family!)
I also appreciate the safety features of the CX-9. As a mother of two young kids, safety is important to me. The CX-9 is protected with an intelligent body structure, high tensile steel reinforcements, intuitive safety technologies and more!
 Connect with Mazda
Facebook // Twitter // Pinterest // Instagram // Google+
Disclosure: I reviewed the above car in exchange for a blog post. No other compensation was given. All opinions are mine alone.