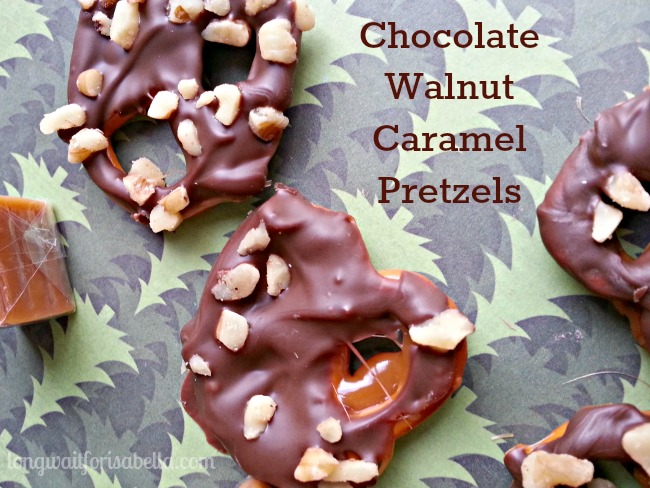 Most people who know me, know that I am a big fan of chocolate. But when you pair chocolate with caramel and pretzels? Watch out! This quick and easy candy recipe would be perfect for your upcoming holiday party. Really, it'd be great for anytime of year.
What is your favorite go-to holiday treat?
Chocolate Walnut Caramel Pretzels
Ingredients
24-36 tiny twist pretzels
12 ounces milk chocolate chips
12 ounces caramels
4 ounces chopped walnuts
Supplies
In a microwave safe bowl melt the caramel so that is is easily spreadable. Set aside.
Add your chocolate chips to the Wilton Chocolate Pro Electric Melting Pot
and set to medium heat. Stir until all the chocolate chips are melted and then reduce heat to warm to keep the chips from solidifying.
Drop pretzels into the caramel so that it covers one side only. Quickly drop caramel covered pretzel into melted milk chocolate and cover pretzels. Use a fork or spoon to remove covered pretzels and place on parchment paper.
Before chocolate has completely hardened sprinkle walnut pieces over the top of the chocolate. Let pretzels cool and set for about fifteen minutes and then enjoy!
You obviously do not have to melt your chocolate in a melting pot. It is just a lot easier. You can use your microwave or stove.
Disclosure: This post contains affiliate links. It is not a sponsored post. All opinions are mine.