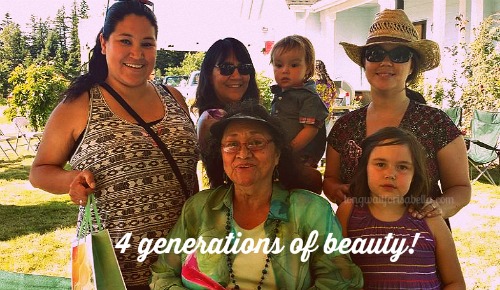 I've talked about how I am Native American (just over half, because people usually ask that) on the blog before. My kids and I are registered members of our small reservation here in Washington state. I lived the first 20 years of my life on the rez, left with my hubby to California for ten years and then moved back. We are within 2 miles of most of my large extended family which is nice. We are also connected to a whole community of tribal members, many of whom are friends that are closer than family. When we traveled around the country, and now travel around Washington state for my husband's job, I realize how blessed I am to be Native American. Being a part of something greater, a voice in a community of people like you, it is great. That I get to raise my kids here to live their culture and enjoy it? Icing on the cake.
So when American Girl offered a doll for my Princess to review I didn't hesitate to request Kaya – the Nez Pierce Native American doll. Not only did I know my daughter would LOVE her, I wanted my daughter to have a doll that spoke volumes of Native American history in a real and important way. Not only did my BeForever box come with this great doll, it also came with books about Kaya's life so you can experience what it was like to live in her moccasins circa 1764.
Kaya and her mare, Steps High, always walk the right path and encourage children to do the same.
[Tweet "I always take time to respect the earth. – Kaya, @american_girl"]
About Kaya
Daring Kaya has deep-brown eyes that open and close and long, shiny black hair. She comes in an authentic 1764 Nez Perce outfit which includes:
A soft faux-deerskin dress trimmed with fringes, beads, and pretend quillwork, tied with a faux-leather belt
Matching moccasins with ties
Faux-leather hair ties at the bottom of her braids and faux-shell hair ties at the top
The 18″ Kaya doll has a huggable cloth body, and her movable head and limbs are made of smooth vinyl. Includes the paperback book The Journey Begins, the first novel-length volume of Kaya's classic series.
Connect with American Girl
Facebook // Twitter // Pinterest // Instagram // YouTube
My daughter is living on a Native American reservation in 2014 and participating in our weekly cultural nights and monthly community dinners. She loves our Coast Salish culture and lives for our annual Canoe Journey. What I appreciate about this doll is that my daughter can learn what it was like for a girl to live as a Native American in 1764. Along with this Native American doll we were sent three books: The Journey Begins: A Kaya Classic 1, Smoke on the Wind: A Kaya Classic 2, and The Roar of the Falls: My Journey with Kaya.
These books are teaching my daughter the value of animals and nature. They also speak about pride and leadership. I appreciate their focus on strength and wisdom to make good choices. American Girl dolls are the kind of dolls I want my daughter to play with. These Beforever American Girl books are the kind of books I want her to enjoy and learn from. Stories about real girls. Strong girls. The kind of girl I'd like her to be.
Do you have a young daughter? Or friend or family member who has one?
This is such a great gift idea for any young girl.