I participated in an Influencer Activation on behalf of Mom Central Consulting for Katy's Goodness. I received samples for this review and a promotional item to thank me for participating.

I met my husband in 1997 when he was serving in the US NAVY. My husband served 4.5 years and getting out was a hard decision for him. He loved the NAVY. He decided to go into ministry work instead and finish his college degree. It was a good decision for our family. But, I have a deep respect for those who have served in our military and those currently serving. Many men in my family also served in the military as well as in my husband's family. In fact, my dad counted up who in our family has served and I was astounded. I didn't realize I had that many veterans in my family:
My great-grandpa served in WWI. Two of my great uncles served in WWII. My grandfather served also served in WWII. My other grandfather served in Korea as well as his brother-in-law, my great uncle. Four uncles served in Vietnam. Two more uncles served during a time of no war on in the Marines the other in the Navy.
Serving our country in the military is not an easy job, and from experience, I am thankful for those who have served. There is a lot of attention given to veterans during November due to Veteran's Day, but I'd like to share four ways you can help veterans all year long.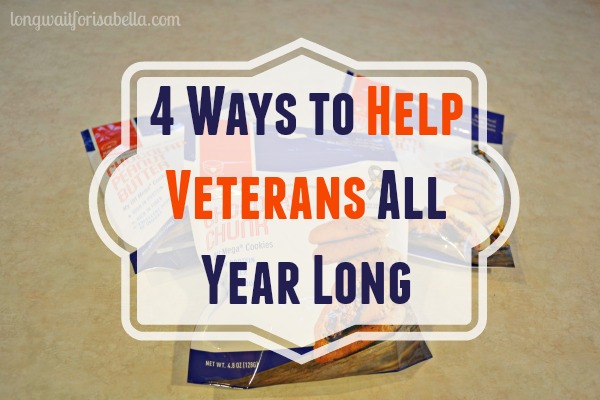 4 Ways to Help Veterans All Year Long
Find a local charity that works with veterans in your county and volunteer your time (food bank, soup kitchen, home building, rides)
Send a care package or letter (Operation Gratitude, Operation Write Home
Support veteran's charities like Disabled Veterans of America (DAV), Wounded Warrior Project, and the USO
When you see a veteran thank them for their service, show love and respect to all veterans
In case, you'd like to know some items to include in a care package for soldiers here are ideas:
powdered drink mixes
individual condiments
jerky
snacks, candy, gum
travel sized toiletries
hand warmers
aspirin
gloves, socks, underwear
books
puzzles
notepads and pens
stamps
Can you share any other ways you can help veterans throughout the year?
One very easy way that you can help a veteran is by supporting Katy's Goodness:
Beginning today, Veteran's Day, cookie care packages will begin showing up on American military veterans' doorsteps. Katy's Goodness ™ is a good-for-you brand of cookies that has proudly supported America's military veterans since 2004.
Through the Katy's Goodness "Thank A Deserving Military Veteran" campaign, cookie care packages will be delivered to two million military veteran. And Katy's Goodness will donate more than $3 million dollars to military veteran support organizations! That's a lot of money for our veterans! So between now and Veteran's Day 2015, you can easily thank a military veteran by ordering a Katy's Goodness Cookie Care Package to be shipped directly to one of America's 22 million military veterans. The best news? For every cookie care package purchased, Katy's Goodness will donate funds back to the local affiliates of its nationally recognized charity partners including: Easter Seals, Student Veterans of America, Warriors in the Workplace, and Support Military Foundation.
A cookie care package is quite affordable. It only costs $30 which includes shipping. These care packages are comprised of six bags (one dozen cookies in each bag) of Katy's Goodness Cookies, a thank you card, and printed information on organizations that support America's military veteran community with housing, jobs, education, and medical and mental health services.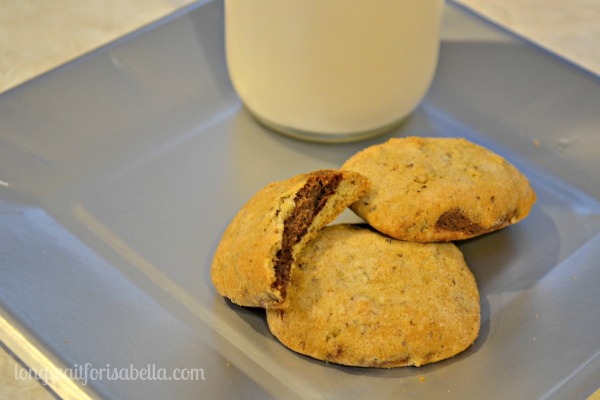 Do you have a veteran in your family?
Wouldn't they love a cookie care package?
Pin it for later: