This weekend, we had another girl's day out with friends. Excitedly, we went to our local arena and watched Disney On Ice: Let's Celebrate! What a fun show. Sunday's matinee was the final show for our town but you still have a chance to see Disney on Ice with your kiddos (or without!). Visit the website to find out shows and locations.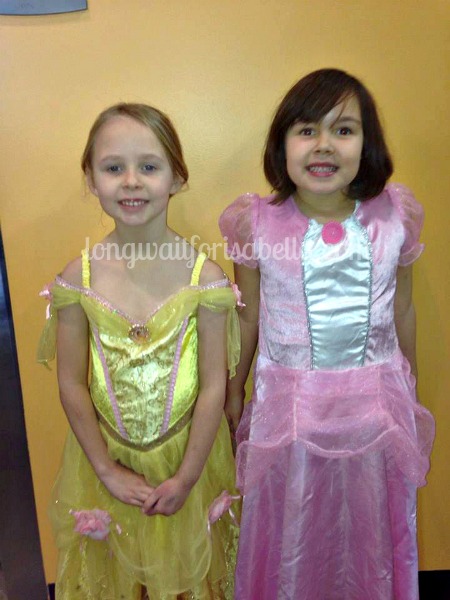 The girls are seven and six so of course, they dressed in their Princess dresses for the show. They were not the only ones. The show is on ice, so a sweater or coat is a must for our arena. We got there a bit early to see the vendors, find our seats, and get comfortable. Once they show started, we all were pretty excited to see  our favorite characters celebrate a variety of occasions including, an Unbirthday party, Valentine's Day, and Christmas.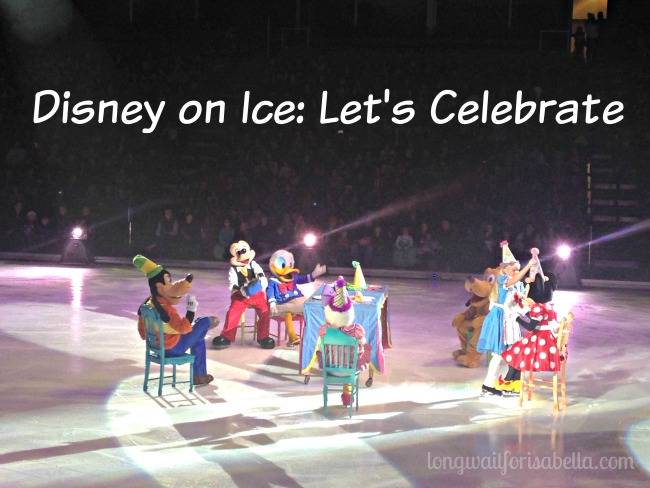 The girls loved almost all the acts. While the characters were getting ready to celebrate, Mickey and Goofy decided to clean up. That led to a Fantasia style act that the girl's became bored of. That was the least exciting act for them. To me it was still entertaining, just a bit long with the "brooms' skating around the ice in formation. Possibly more fun for the older folks that loved Fantasia. Visually? It was still beautiful.
My personal favorite was the Royal Valentine's Day Ball. All of the Princesses and Princes came out to skate (beautifully) while Minnie was pondering, "How Do You Know He Loves You?" – a fun throwback to the movie Enchanted. The skating was top notch! Plus, seeing all the "couples" was so fun.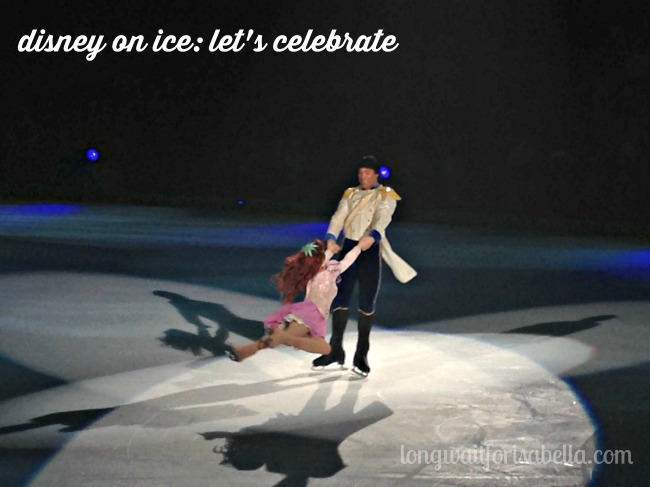 Because we recently went to Hawaii, my Princess loved the Hawaiian Luau with Lilo & Stitch. That was a pretty fun act. It was nice to see all our favorite characters in Hawaiian shirts. Also, the characters had great costumes for each act — we all really loved that part. Seeing which "outfit" they'd be wearing when they came out. The excitement of the show was not only due to seeing the Disney characters we love, hearing the fun songs, seeing amazing skating ability, but also the costumes and props. If you haven't been to a Disney on Ice show with your family before, I highly recommend it. It is quite affordable and there was not a "bad" seat in our arena.
Of course, a big highlight was at the end when our favorite characters came out for the Christmas celebration: characters from Toy Story! This act was a close second favorite for me. I love Toy Story! The kids? They loved seeing Woody, Jessie, Buzz and the whole game skating around. It even snowed!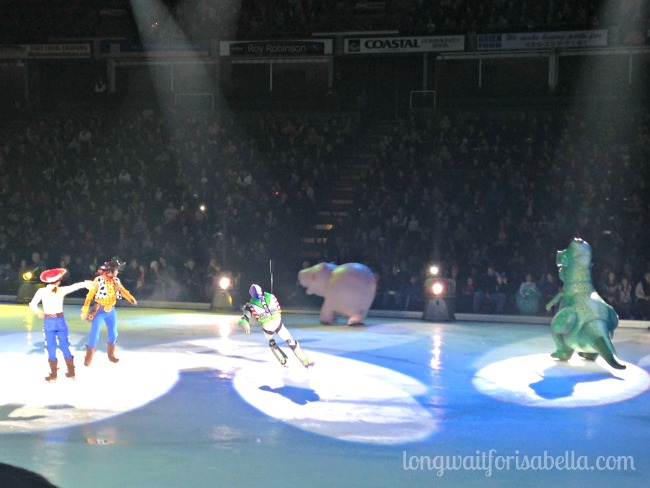 About Disney on Ice: Let's Celebrate
Join Mickey Mouse and Minnie Mouse on a delightful tour as they celebrate a Very Merry Unbirthday Party with Alice and the Mad Hatter; a winter wonderland with Woody, Jessie and Buzz Lightyear; Mardi Gras with Princess Tiana; a Royal Valentine's Day Ball with the Disney Princesses; a Hawaiian luau with Lilo & Stitch; a Halloween haunt with the Disney Villains; plus traveling to far-off exotic places including China for the Chinese New Year, Brazil for Carnival and Japan for the beautiful Cherry Blossom festival Sakura. Disney On Ice presents Let's Celebrate! – Presented by YoKids is the ultimate jam-packed celebration of the century featuring fun and surprises for the whole family!
Connect with Disney on Ice
Facebook // Twitter // Instagram // YouTube
[Tweet "If you haven't been to Disney On Ice you're missing out!" @DisneyOnIce]
Disclosure: I am a Feld Entertainment Family Ambassador. I will be given tickets to see this live show in exchange for sharing this post.