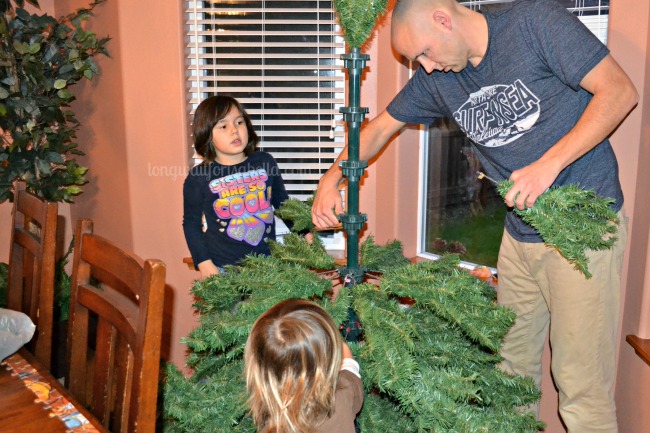 We have a family tradition of putting up our Christmas tree and in-house Christmas decorations up on the day after Thanksgiving – always in the evening. We listen to Christmas music and drink hot chocolate with mini-marshmallows. My Princess has been counting down all week to do it. This special family night really is a highlight of our entire year.  We still use an artificial tree that we've used for the last decade. My awesome hubby, puts the color coated branches in each assigned slot, while my Princess fluffs and perfects them. This year, my Little Man put one on the tree and said, "I built a Christmas." He was so proud of himself. He was also constantly, quite loudly, proclaiming, "Happy Merry Christmas!" No one corrected him because it was true – we really were having a Happy and Merry Christmas celebration.
Because my Little Man was only one last year and not to be trusted around priceless ceramic breakables, we didn't put up Great Grandpa Miller's ceramic handmade Nativity set. So this year, my Princess, always the perfectionist, set the scene on our buffet. I am praying my Little Man realizes he CANNOT play with these pieces.
Does your family have special traditions each year for the holidays?
I know my Little Man doesn't remember Christmas last year, so when I called these things stockings, he decided that meant putting them on and walking around the house in them. We hang these on our mantle next to our Advent Calendar each year. I don't know about you, but stocking gifts are really my favorite. Finding small little things to place in there and wrapping each one individually for my family just makes me pretty happy.
Once we finished putting up all our tree decorations, my Princess got the honor of putting up the star on top. I am thinking next year, she is going to have to let my Little Man have a turn. And after Christmas we might be shopping for a new color scheme. This one is a bit "girly" for when it was mostly my Princess participating in Christmas decorating. I might just need to go with traditional colors next year. Do you like to change up your Christmas color theme? I do!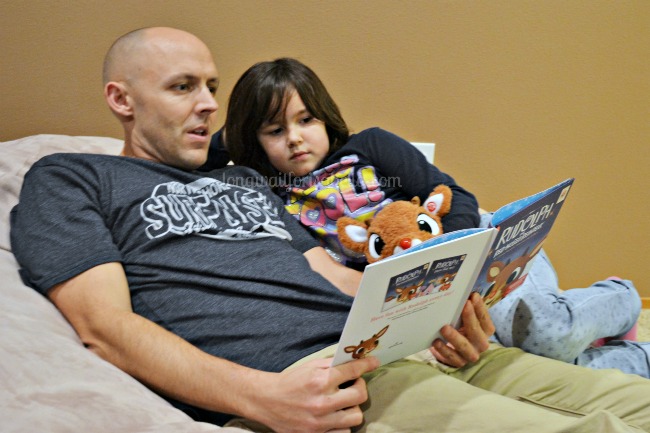 After the decorations were finished my awesome Hubby sat down on our bean bag chair to read my Princess a story about Rudolph the Red Nose Reindeer. That story never gets old does it? The Hallmark Rudolph the Red-Nosed Reindeer Interactive Storybuddy is awesome too! Hear Rudolph come to life as you read key words aloud from his books, read-along CD and more! She LOVED it! This is a new Black Friday Christmas tradition for us.
Buy a Buddy Give a Buddy
Here's an awesome way to give this holiday season. Each time you buy an Interactive Story Buddy® at a Hallmark Gold Crown store, Hallmark will donate an Interactive Story Buddy to Toys for Tots! Rudolph the Red-Nosed Reindeer 50th Anniversary itty bittys also give shoppers a small way to make a big difference. Hallmark will donate $1 to Toys for Tots each time one of the Rudolph, Santa Claus, Clarice or Bumble itty bittys is purchased.
[Tweet "Help Toys for Tots. Buy a Buddy Give a Buddy @Hallmark!"]
Connect with Hallmark
Facebook // Twitter // Pinterest
Win Hallmark!
One lucky Long Wait For Isabella reader will win their own Rudolph the Red-Nosed Reindeer Interactive Storybuddy from Hallmark as well as a set of Santa and Bumble itty bittys. Enter the Rafflecopter form below for your chance to win. Open to US residents 18+.
Disclosure: I was sent the above Hallmark items for review. I was not compensated for this post. All opinions are mine.