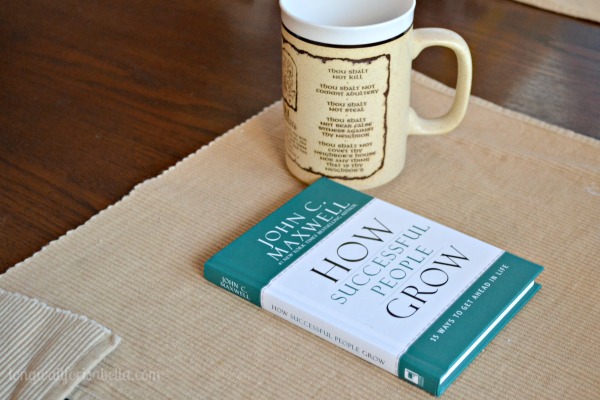 My husband is an avid reader. He loves reading business, finance, and personal growth books. Not to mention the marriage, family and parenting books he also reads. I am blessed like that. I know. He has read books from John C. Maxwell before so when the opportunity arose to review How Successful People Grow, I jumped at it. One more great book to add to our library. He wasn't disappointed.
About How Successful People Grow
Are there tried and true principles that are always certain to help a person grow? John Maxwell says the answer is yes. He has been passionate about personal development for over fifty years, and here, he teaches everything he has gleaned about what it takes to reach our potential. In the way that only he can communicate, John teaches . . .

The Law of the Mirror: You Must See Value in Yourself to Add Value to Yourself
The Law of Awareness: You Must Know Yourself to Grow Yourself
The Law of Modeling: It's Hard to Improve When You Have No One But Yourself to Follow
The Law of the Rubber Band: Growth Stops When You Lose the Tension Between Where You are and Where You Could Be
The Law of Contribution: Developing Yourself Enables You to Develop Others
This book was originally published as The 15 Invaluable Laws of Growth. This new edition offers more current beneficial material. This book shares personal growth insights and leadership skills in such a easy to read way. With personal stories, quotes, and great advice this book is a must read! I love the compact size of this hardback book as well. Getting ahead in life through personal growth is key. Reading books like this enable you to improve not just your career life but personal life as well.
Buy How Successful People Grow
This book from John C. Maxwell is available to purchase on BN.com, ChristianBook.com, and Amazon.com
.
Connect with Hachette Books
Facebook // Twitter // YouTube
Win How Successful People Grow
Three (3) lucky Long Wait For Isabella readers will win their own copy of How Successful People Grow: 15 Ways to Get Ahead in Life by  John C. Maxwell. Enter the Rafflecopter form below for your chance to win. Open to US residents 18+.
Disclosure: I was sent the above book for review. No other compensation was given. All opinions are mine.