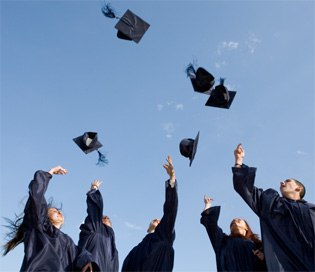 Whether or not one agrees that standardized tests are an accurate measurement of intelligence or how one would perform in college, the fact remains the SATs are an important piece of the puzzle when it comes to applying to colleges. Preparing as best you can over the long term is a prudent move. Here are seven effective ways to optimize performance.
Encourage Your Child to Take Challenging Courses
If you are currently thinking about the long game of preparation, encouraging your child to take more challenging courses is a step in the right direction. The SAT is designed to test problem-solving and reasoning skills. More rigorous coursework will better prepare your child for this type of test.
Reading
There is nothing that will help your child better tackle the reading portions of the exam more than boosting his vocabulary. The best way to do this is to make reading a regular habit in a variety of forms from magazines to blogs. You don't want to leave vocabulary improvement to some flashcard drills a few weeks before the test.
Consider Tutoring
If your child is having trouble with certain subjects in school, and extra studying and/or your own efforts at helping her don't seem to be leading to significant improvement, investing in a tutor may be a wise idea. You want her to get a better grasp on subject matter sooner than later to gain the most benefit from what she is learning in a particular class. Check out Smile Tutor for more great information.
Stay on Top of Math
Since math is one of the most important elements of the test, make sure your child is staying on top of his studies in this particular subject. Ensure he is regularly doing homework, and keep abreast of his performance on tests.
Recognizing Strengths and Weaknesses
Your child, just like any other, likely has her strengths and weaknesses when it comes to school. She may have a stellar vocabulary but struggle through math. Perhaps her reading comprehension could use some work, but she is solid when it comes to anything smacking of logical thinking. Tune into your child's particular strengths and weaknesses to most effectively prepare her for the test. Don't spend a lot of time on things at which she has already seemed to mastered—concentrate on the problem areas.
Considerations for Prep Courses
SAT prep courses can be a very powerful tool in your arsenal for maximizing performance on the test. But, you need to tread carefully here and do your homework. One of the first things to consider is whether you would prefer and SAT online prep course or an in-person format. You have to consider how you think your child works best. If your child is very independent and self-motivated, an online course would probably suit him just fine, particularly if he is already leading a packed schedule.
Also, you need to consider whether your teen will put in the proper time with this tool—if not, you will not be getting the most bang for your buck. If your child has already taken the test, be wary of any service that guarantees to increase scores by a specific amount. When weighing your options, confirm who runs each test-prep service.
Consider your child's strengths and weaknesses. Some classes are broader while others focus in more specifically on certain elements of the test.
Familiarizing Your Child with the Test
Taking practice tests not only gives some insight into how your child is doing, and his strengths and weaknesses, it also helps familiarize him with the testing format. The more familiar he is with it, the better he will perform. It is important to know guessing is not a good strategy for the SAT because a .25 deduction is applied to every wrong answer. This does not mean that he should never guess, it just means he needs to learn to guess intelligently to maximize his chances of raising his score.
With proper preparation, your child can maximize his performance on this test. As important as the test is, however, remember other elements will come into play, such as grades, extra-curricular activities and volunteer work and community involvement. So, don't forget about that stuff as well. Good luck!