Are you looking for a place to take the kids that is educational, interesting, and entertaining? Ripley's London with all of its exceptional and intriguing exhibits is perfect for families who want to achieve a fun museum tour that is unlike any other. There are over 700 artifacts in this family friendly museum to enjoy, and the goal of each one of them is to challenge the mind. It only takes a couple of hours to explore this fascinating attraction, but you can expect your kids to be still talking about it weeks later.
What is Ripley's London?
Robert Ripley was an American cartoonist who developed a deep fascination for bizarre and unusual facts. During the 1920's, he became popular due to his radio show where he would attempt to convince his listeners that he truth was often stranger than fiction – this later became a TV series. During the 1930's, Robert Ripley started to display some of the unusual artifacts that he had collected, and these exhibits proved to be so be popular that it eventually led to the opening of a permanent exhibition. The original Ripley's Believe it or Not! Museum is in New York, and there are now 32 other museums (aka odditoriums) spread around the world.
Ripley's London opened in 2008, and it is the largest of all the museums in this franchise. It is located in Piccadilly Circus. The 700 exhibits are spread over six floors. Some of the most interesting things to see would include the Mirror Maze, a display of shrunken heads, underwater wonders, and a knitted Ferrari car. There is also plenty of fun interactive exhibits such as the Laser Race. If all of the excitement starts to get too much for you, there is a nice café where you can recuperate. You can also visit the gift shop if you want to pick up some strange memorabilia for your own home.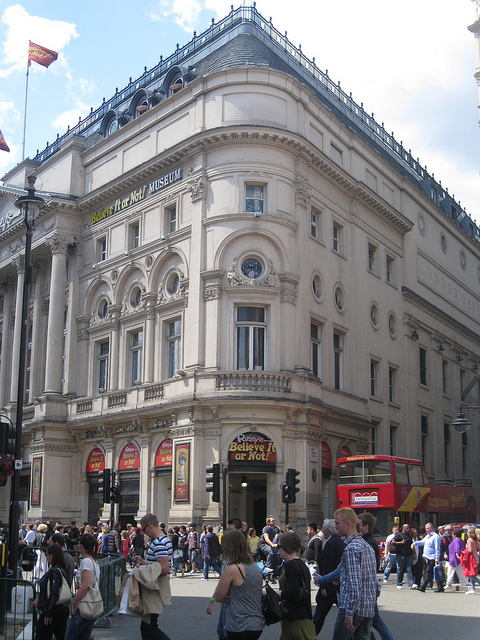 Nice Family Day Out at Ripley's London
The great thing about London is that there are plenty of options for a family looking for fun. Ripley's Odditotorium is probably worth visiting because with such a wide selection of oddities that there is sure to be something to thrill each member of the family. This museum is also like a little oasis of calm if you are trying to escape the bustle and noise of Piccadilly Circus.
Have you visited a Ripley's museum before?
What about this one in London?