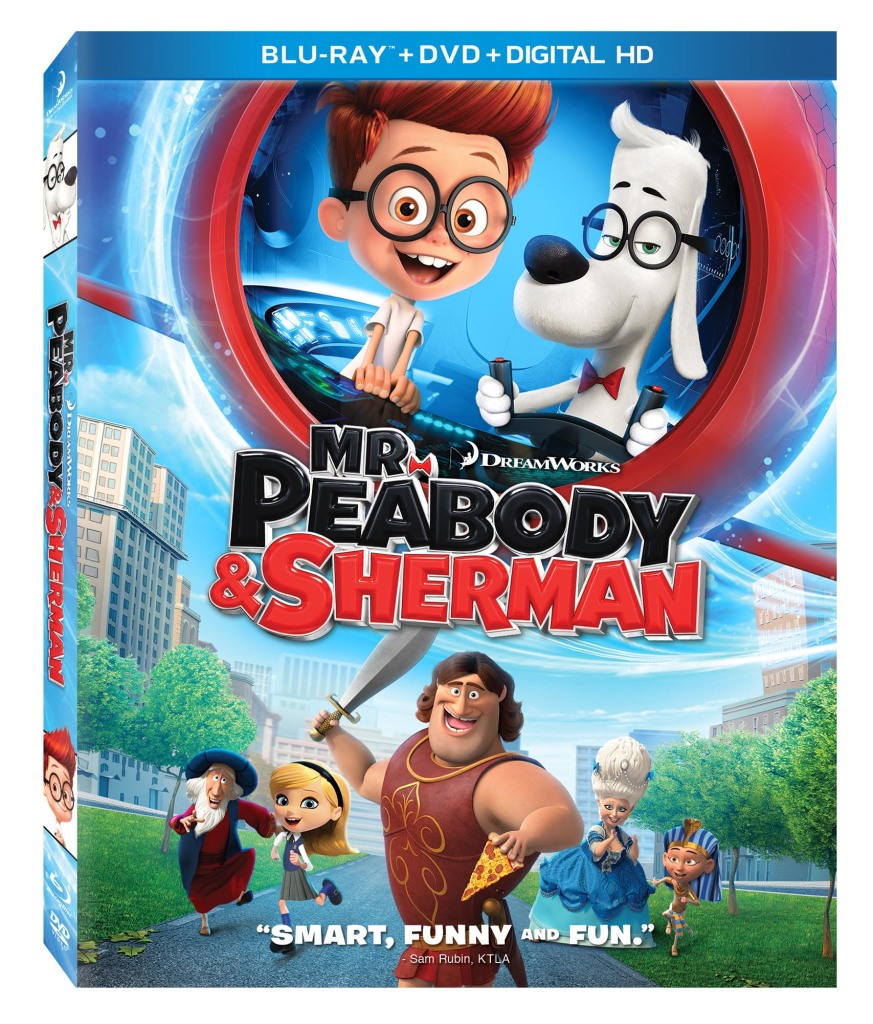 Mr. Peabody & Sherman is coming to Blu-ray, 3D and DVD on October 14! My parents took my Princess to see this movie when it was in the theaters and she loved it. She is very excited to watch it again on Blu-ray. I honestly didn't know who these characters were but thought the movie looked cute. Now it is me who is excited to see it with my daughter.
About Mr. Peabody and Sherman
Mr. Peabody is an inventor, scientist and genius who just happens to be a dog. With his son Sherman, he will embark on the most extraordinary adventure imaginable as they race against time to repair history and save the future.

Directed by Rob Minkoff and from the team behind family favorite franchises THE CROODS and HOW TO TRAIN YOUR DRAGON, MR. PEABODY & SHERMAN is "fun" and "fast moving" (A.O. Scott, The New York Times) and features hilarious performances from an incredible voice cast of popular stars including Ty Burrell, Ariel Winter, Stephen Colbert, Leslie Mann, Max Charles, Patrick Warburton and Allison Janney.

MR. PEABODY AND SHERMAN is based upon the beloved characters that first appeared in in the late 1950s and early 1960s animated television series "Rocky and His Friends" and "The Bullwinkle Show," produced by Jay Ward. Jay Ward fans will want to get the 3D Blu-ray™ release which has everything for enthusiasts to celebrate the Jay Ward legacy including a 5-minute All New Rocky & Bullwinkle short and several original TV episodes.
Get the Blu-ray on October 14th. You'll get the following exclusive special features:
Rocky & Bullwinkle & Friends Show – See the premiere episode of the original 1959 television show.
Mr. Peabody & Sherman Segments – Watch five segments from the original television series including "Robin Hood," "Leonardo Da Vinci," "Louis XVI," "William Shakespeare," and "Ludwig Van Beethoven."
DreamWorks Presents: Mr. Peabody & Sherman, A Journey WABAC
History's Greatest Mysteries – A Dog and his Boy
Peabody's Paw Print on History – We take part in the excitement as Mr. Peabody gets his pawprints in cement at the TCL Chinese Theatre.
Time Travel Memory Match game
The WABAC Jigsaw Puzzle game
Here are five free printable Mr. Peabody and Sherman activity sheets just for you:
Buy Mr. Peabody and Sherman
You can pre-order this Blu-ray combo pack on Amazon today!
Win Mr. Peabody and Sherman
One lucky Long Wait For Isabella reader will win the Mr. Peabody and Sherman Blu-ray combo pack. Enter the Rafflecopter form below for your chance to win.
Disclosure: I am a FHE Insider. I will be sent this Blu-ray combo pack in exchange for this post.