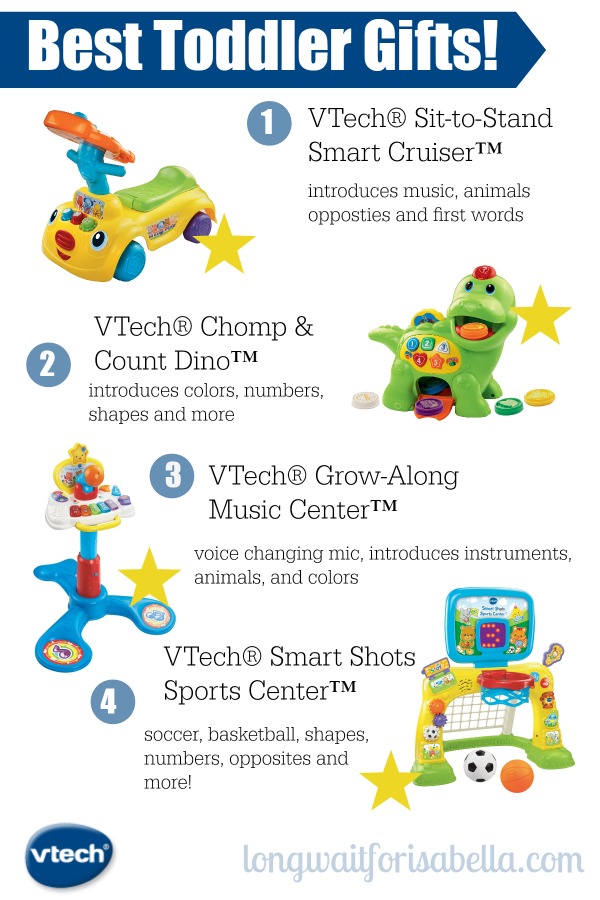 With the holidays soon upon us, I know many of you are looking for great gift ideas for the children in your life. I have four very great gift ideas to share with you. These four gifts are made by VTech, a brand I've always trusted to make quality toys that are also educational. I am homeschooling my daughter which means I need creative ways to keep my Little Man busy. I wish my toddler could sit at his mini-desk and color and look at books and watch educational videos. But nope. Not this guy. He likes to run and jump, and play with toys. Thankfully, I have four new VTech toys in the house to keep him entertained.
VTech® Chomp & Count Dino™
Children can learn about colors, numbers and food with the adorable new Chomp & Count Dino. Simply place one of the eight brightly-colored play pieces in the dino's mouth and watch as he eats and recognizes each piece. Play in either food or counting mode and the dino responds with rewarding sounds and phrases all while introducing colors, numbers, shapes and more. Press the question button and kids can answer the dino's questions to show what they've learned. Five shape buttons help kids learn shapes and numbers, while spinning the disc on dino's back will play sing-along songs. The dino can also be pushed or pulled by a string for even more fun melodies. Recommend for age 12-36 months, MSRP: $19.99.
This is one toy that I think my daughter like better than my son and she's six. Answering the dino's questions is fun for her, and even though she obviously knows her shapes and numbers she just likes playing with him. Notice that there are only three play pieces in the above photo. My son does love pretend playing with those. He serves them up on plates to me like they are food for me.

VTech® Sit-to-Stand Smart Cruiser™
Cruise into the learning zone on the Sit-to-Stand Smart Cruiser. This 2-in-1 toy grows with children and transforms from a floor play toy with detachable steering wheel activity panel to an exciting ride-on toy. The interactive steering wheel features driving, learning and music modes with more than 80 songs, sounds and phrases that introduce animals, opposites and first words. Turn on the engine, move the gear shifter or press the horn to hear realistic driving sound effects. Children can pretend to drive to six different fun locations with arrow buttons teaching the concept of direction and road safety. Attach the steering wheel to the cruiser and it becomes a fun ride-on toy. The Sit-to-Stand Smart Cruiser also has a fun front activity panel and under seat storage children can fill with small toys for more fun on the go! Recommend for age 6-36 months, MSRP: $39.99.
This car from VTech is played with all day long. My Little Man is pretty big into vehicles right now, so the Smart Cruiser was the biggest hit with him. I love that there are a large variety of songs, opportunity for pretend play as he takes "trips", and the realistic driving sounds are a blast. The best part, in my opinion, of this Smart Cruiser is the detachable steering wheel. I can take this in the van for trips and he can pretend he's driving us. If you can only get one of these VTech learning toys this holiday season this is the one. Really.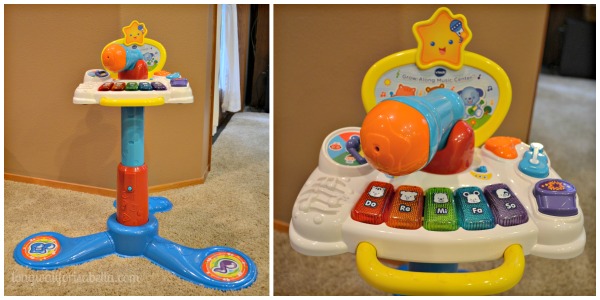 VTech® Grow-Along Music Center™
Children can pretend to be musicians and sing along to the music with the Grow-Along Music Center. As they sing into the microphone, five colorful lights correspond to children's voices, or they can play with wacky voice-changing and amplifying effects. Rock out with three instrument buttons that play guitar, drum and saxophone sounds. Five animal piano keys introduce kids to instruments, colors and animals. Kids can choose between Learn & Play mode and Sing-Along mode to become learning super stars! Recommended for age 12-36 months, MSRP: $29.99.
The Music Center was the last VTech learning toy we opened. You know who begged for this one to be opened? Yes, my Princess who is six. She wanted to play with this Music Center so badly. Can I just mention here that all of these VTech toys were easy to put together. With the exception of the Dino (who was already put together) they all needed a bit of work. But it was so easy. I love educational toys but do not like difficult instructions and set up. The Music Center  has been a hit because of the crazy voice changing mic. My kids love singing into it using the Robot's voice.
VTech® Smart Shots Sports Center™
Parents you can cheer your little sports star with the Smart Shots Sports Center. This electronic sports center features a soccer goal and basketball hoop for a fun 2-in-1 experience. Kick the soccer ball into the net to hear fun sounds or toss the basketball into the hoop and the magic sensor will count up to ten each time a basket is scored. Three buttons introduce shapes, numbers, opposites, sing-along songs and more. Turn the gears or flip the page to hear fun phrases and sounds. The sports center also features a light-up screen that plays a variety of fun animations and shows numbers, shapes and letters to reinforce learning. For age 12-36 months, MSRP: $39.99.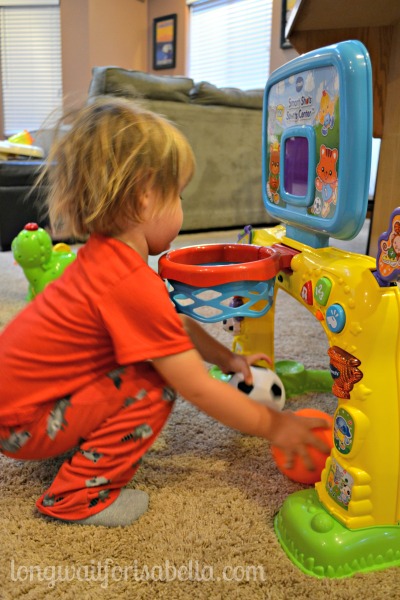 My son loves the Sports Center. Since his sister is in soccer, he calls this his soccer practice. It is almost too easy for him to score a goal and make a basket, but I think that is part of the reason that he loves it. He uses both balls for hoops and goals. I really love the learning aspect of this toy. He is learning shapes, numbers and opposites with the Sports Center and that is awesome!
Connect with VTech
Buy VTech Learning Toys
These awesome VTech toys are available on the VTech website and Amazon.com: