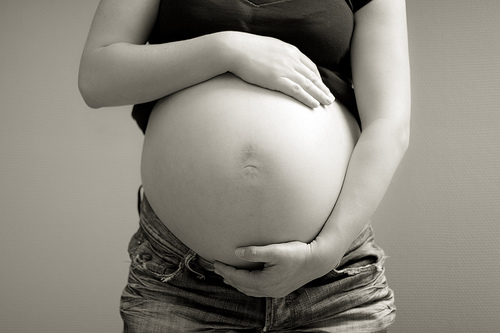 The changes that occur in the body during pregnancy can sometimes make you more vulnerable to particular complications. Deep vein thrombosis—more commonly referred to as blood clots—is one such complication that can be particularly dangerous if the clot travels from the legs to the lungs.
Here is an overview of this condition and what you can do to keep you and your baby safe.
Increased Risk in Pregnancy
Anyone can suffer from blood clots, but a pregnant woman is 10 times more likely to get one than a woman of a similar age who is not pregnant. Not only are you at increased risk while pregnant (particularly the first trimester), but up to six weeks after giving birth. But, don't panic, the chances of developing one are rare—about one or two women per 1,000.
There are certain factors that make you a more likely candidate for developing a blood clot, such as having had one previously, having a close relative with a history of blood clots, being bed-ridden for prolonged periods during and after your pregnancy, giving birth by C-section, gestational diabetes, varicose veins, vein injuries during delivery, being older than 35, being a smoker, being overweight or having a BMI over 30, having traveled on a flight longer than five hours and a multiple pregnancy.
What Causes Blood Clots?
Sometimes blood clots can happen for no apparent reason. When it comes to pregnancy, there are several factors that can make them more likely. First, through changes in hormone levels and blood composition, your body makes the blood more likely to clot as a defense against excessive blood loss during delivery. The weight of the baby pressing against your veins reduces blood flow to the legs. Hormones in pregnancy cause the blood to flow from your legs to your heart at a reduced speed.
Reducing the Risk
There are several things you can do to reduce your risk of developing a blood clot during and after your pregnancy. Optimize circulation with regular exercise. Wear anti embolism stockings, which put pressure on the legs, and encourage normal blood flow. They are recommended when flying long distances or when you spend long periods of time immobile. Staying adequately hydrated is crucial as dehydration can affect circulation, and increase the risk of a clot. Don't sit cross-legged, it impedes normal blood flow.
Know the Signs
Signs of a blood clot include swelling, pain, and redness in the leg, usually the calf, increased pain when you walk or bending your foot up to your knee, warmth in the spot where the clot is and the veins looking larger than usual. Blood clots can travel up the lungs, and be fatal. Signs include trouble breathing, becoming more easily out of breath, chest pain that intensifies when you breathe in and coughing up blood. Clots in the lung require immediate treatment so do not hesitate to go to the hospital if you suspect you may have one.
Will it Affect My Baby?
The mere presence of a blood clot will not impact the health of your baby in anyway if your health has not been impacted. If there are complications from the clot traveling to the lung, or the use of blood-thinning medication led to excessive blood loss during the pregnancy or birth, then there is the possibility. But, so long as it is caught in time, and managed properly, you and baby will be fine.
If you have any concerns you are at increased risk of developing a clot, do not hesitate to talk to your doctor about it for more information.