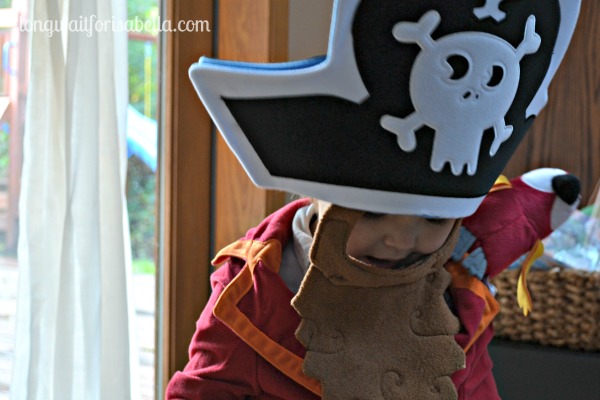 My son is a pretty big fan of pirates. He loves to climb up our play set in the backyard and pretend to be a captain of the ship. But not just any captain but a pirate captain. He calls himself a "bad guy". Ever on the look out for sharks too. My heart melts each time I spy on him and watch him play. This fall I was able to get him a new dress up costume from HABA. The Captain Charlie Pirate Costume is the perfect costume for my Little Man. He has been wearing it daily and loves to "speak pirate".
Do your kids love to pretend to be pirates?
If you have someone in your family dressing up like a pirate this Halloween then they must use the following basic pirate words:
Ahoy – hello
Avast – stop and give attention
Aye – yes
Aye Aye – I'll do it
Arrr – yes; I agree; I'm happy…
Do you have any pirate words to add to the list?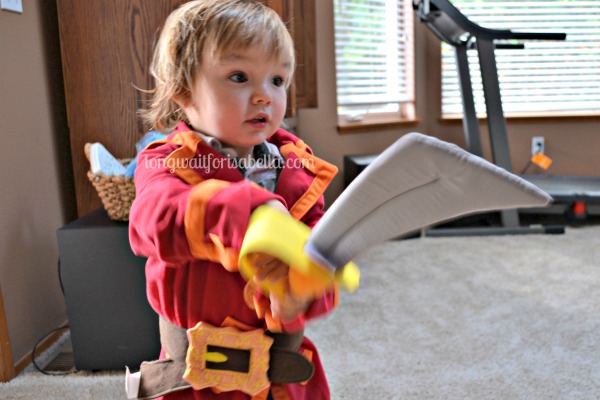 About Captain Charlie Pirate Costume
Arrr! Set sail for the high seas of yore with this classic pirate collection, complete with fearsome beard and companion parrot. The sharp jacket and soft sword round out this buccaneer bundle perfect for little pretend play pirates. The bundle includes four amazing pieces: Jacket and Belt: By simply putting on this jacket and belt with the hook and loop fastener, children slip immediately into the role of the brave pirate! Hat and Beard: The perfect touch for a pirate costume! The beard is attached to the hat and is removable. Sword: Perfect for boarding enemy ships! Padded and soft core with handle. Parrot: The trusty side kick of any sea captain! Includes hook and loop fastener to attach to the jacket. Materials: Polyester, Cotton. Perfect for ages 3-6!
We love the quality of this costume. Many dress up clothes you purchase for kids are made cheaply. Not so with this pirate costume from HABA. It is so well made it surpasses all dress-up clothes we have for the kids. Even my Princess likes wearing it. It is a tad big for my Little Man right now. so the parrot doesn't sit on his shoulder very well. He isn't interested in the hat and beard right now. But that's okay, we plan on having this costume for a long time. What I love is that the beard is removable. He can wear the hat alone if he'd like. I won't lie – the sword is his favorite accessory. He plays with that many times throughout the day trying to fight us all.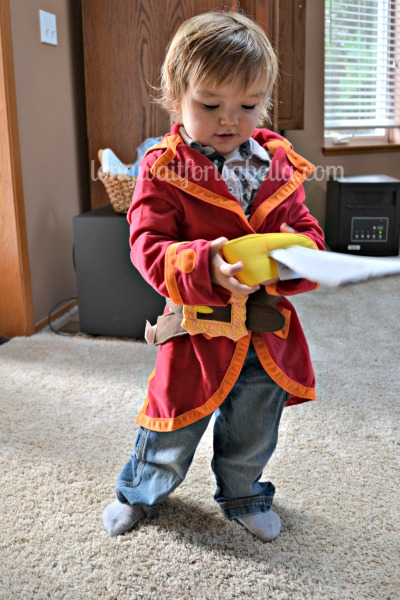 Connect with HABA
Facebook  | Twitter | YouTube | Google+ | Pinterest
Disclosure: I was sent the above product for review. All opinions are mine alone.