When the one-way veins responsible for making sure blood only moves towards the heart become weakened, the blood pools, and varicose veins form as a result. A bluish purple hue, and their enlarged, twisted appearance makes for an unsightly appearance on the legs, about which you may feel very self-conscious. While it is mainly a cosmetic concern for most people, some experience pain, swelling, itching and general discomfort.
They may be caused by a variety of factors, such as hormonal changes in menopause and pregnancy, being overweight, genetics, chronic constipation and sitting or standing for long periods of time. There are several strategies that can improve their appearance, and minimize symptoms.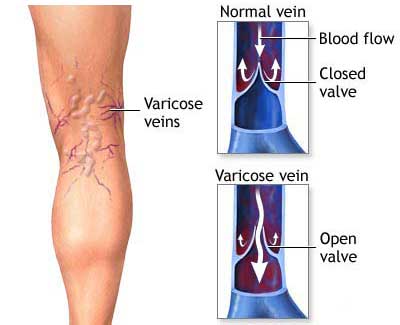 Lifestyle
Exercise may not treat the varicose veins outright, but is crucial for reducing symptoms by improving blood circulation. The better your circulation, the less blood that gathers in the veins. Any form of cardiovascular activity, from walking to swimming will do; spot exercises for the legs, such as leg raises or squats, are also a good idea.
Be kinder to your legs throughout the day. If you spend a prolonged amount of time standing, your legs have to work really hard to move blood back up towards the heart. Make it a habit to move around on a regular basis, or take some sitting breaks. When standing, remember to regularly shift weight between your legs, and get up on your tiptoes regularly to help move blood along more easily.
At the end of a long day, elevate your legs above your heart for at least 10 minutes every hour. Just as prolonged standing can worsen varicose veins, so can sitting for long periods. The position of your legs makes it hard to pump blood upwards. Flex your feet regularly.
Natural Supplements and Topical Treatments
Several herbs and other natural substances, when taken internally or applied topically, have been known to help varicose veins.
The following five supplements may help:
Horse chestnut is probably the supplement with the most research behind it for treating varicose veins. It contains a substance that appears to block the release of an enzyme that damages the capillary walls. It might not be appropriate if you have diabetes, take blood thinners or lithium; people with latex allergies may also be allergic to this supplement.
Pine bark extract and grape seed extract both contain OPCs, a type of antioxidant that reduces inflammation and strengthens connective tissue. Because these supplements are known to stimulate the immune system, they are not appropriate for people with autoimmune disorders.
Gotu kola may help relieve swelling and vein leakage. Do not use if you have liver disease.
Butcher's broom may help relieve swelling, improve circulation and strengthen the collagen in blood vessel walls. If you have high blood pressure, check with your doctor before using it.
Butcher's broom should not be taken with medication for high blood pressure, benign prostate hyperplasia, or MAO inhibitors unless under medical supervision.
There are a number of topical homeopathic treatments that are recommended for getting rid of varicose veins. The most common treatments include a blend of different oils.
Diet
Eating foods that promote vein health is an important part of treating varicose veins. Eating a high-fiber diet is very important—the straining that comes with constipation can be very damaging to the veins when it is a chronic problem. Choose whole grains over refined; eat lots of fruits and vegetables.
The bioflavonoid rutin is important for strengthening the walls of the veins and improving their function. Good sources include buckwheat, apples, cherries, grapes, blackberries and apricot. Foods rich in OPCs(which were discussed previously) include cranberries and blueberries. While supplementing with these bioflavonoids can be helpful, getting nutrients through your diet should always be part of the plan, and your primary means.
While there is not a lot of research currently, some small studies suggest drinking alcohol may contribute to varicose veins.
If you follow the above suggestions, you can greatly reduce the appearance of your varicose veins, and minimize any discomfort you may feel.