As I am typing this book review, my kids are watching Frozen for the millionth time. Really. My daughter is six years old and raising her is difficult. Parenting is hard, right? Especially in this day and age. It seems like everything is either over-sexualized in society or full of spiritualism (witches, magic, death, etc…). As a Christian mother I find the line difficult to draw. Honestly, I have really cracked down on the entertainment she is exposed to.
When girls are continually shown life as a Princess in countless movies you can imagine that my six year old, with her trunk full of princess play dresses, wants to be a Princess too. This book was written for a family like ours for sure. Former Alabama defensive back John Croyle, and founder of child safe-haven Big Oak Ranch, believes the answer to raising a true Princess lies in Proverbs 31.
"Her children rise up and call her blessed; her husband also, and he praises her: 'Many women have done excellently, but you surpass them all.' Charm is deceitful, and beauty is vain, but a woman who fears the Lord is to be praised. Give her of the fruit of her hands, and let her works praise her in her gates (vs. 28-31)."
In his new book, Raising a Princess, Croyle walks through the importance of raising young women in a biblical, strong and compassionate manner. Touching on themes of unconditional love, failure and trust, Croyle offers nearly four decades of wisdom in raising a godly woman from a dad's perspective.
"A hundred years from now it will not matter what kind of house we lived in, the kind of car we drove or how much money we had in the bank," says Croyle, author of The Two Minute Drill to Manhood, which looks at what it means to raise godly young men. "But the world may be different because you and I were important in the life of a child."
I wan to raise my own Princess to be a Proverbs 31 queen and I am thankful for Croyle's specific approach. In his book we learn the acronym P.R.I.N.C.E.S.S which are the 8 essential virtues to teach your daughters.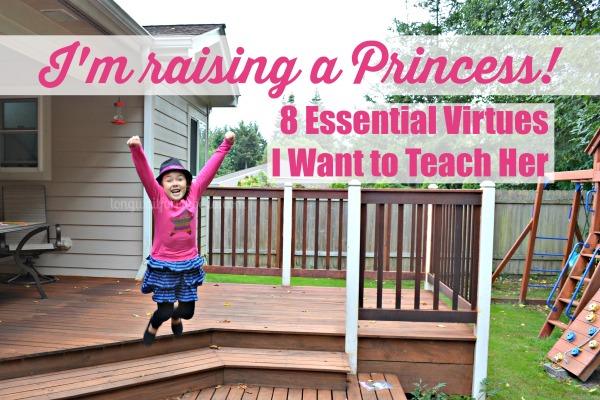 Praiseworthiness – A princess understands she is worthy of praise simply because she is made in the image of God.
Righteousness – She lives according to God's normal, not the world's normal.
Initiative – A princess makes good things happen.
Nurture – God built into girls and women an instinct to nurture that boys and men simply don't have in the same way.
Character – A girl of character knows what her deepest desires are and chooses accordingly.
Empowerment – Your princess needs to understand life isn't just something that happens to her. She has the power to choose.
Servant-Heartedness – A princess finds purpose not in being served, but in serving others.
Stability – As stability is provided for daughters, they will grow into the kind of people who help create stability for others.
Can I just say that I love this book? My husband is reading it right now. He is enjoying it as well. I only wish we had it sooner. These really are essential virtues to teach your daughters. Intentional biblical based parenting is where it's at!
About John Croyle
John Croyle was an All-American defensive end at the University of Alabama during a renowned title run under Coach Paul "Bear" Bryant. Croyle declined a career in the National Football League and instead went on to found and develop the Big Oak Ranch for Boys. Over the next few decades they worked to start the Girls' Ranch as well as the Westbrook Christian School. He and his wife, Tee, together have raised hundreds of young men and women, including their daughter and Big Oak child care director, Reagan Croyle Phillips, as well as their son and former NFL quarterback Brodie Croyle. For more information, please visit www.bigoak.org.
Buy Raising a Princess
Win Raising a Princess
Three (3) lucky Long Wait For Isabella readers will win their own copy of Raising a Princess by John Croyle. Simply enter the Rafflecopter form below for your chance to win. Open to US residents 18+.
Disclosure: I was sent the above book for review. All opinions are mine.