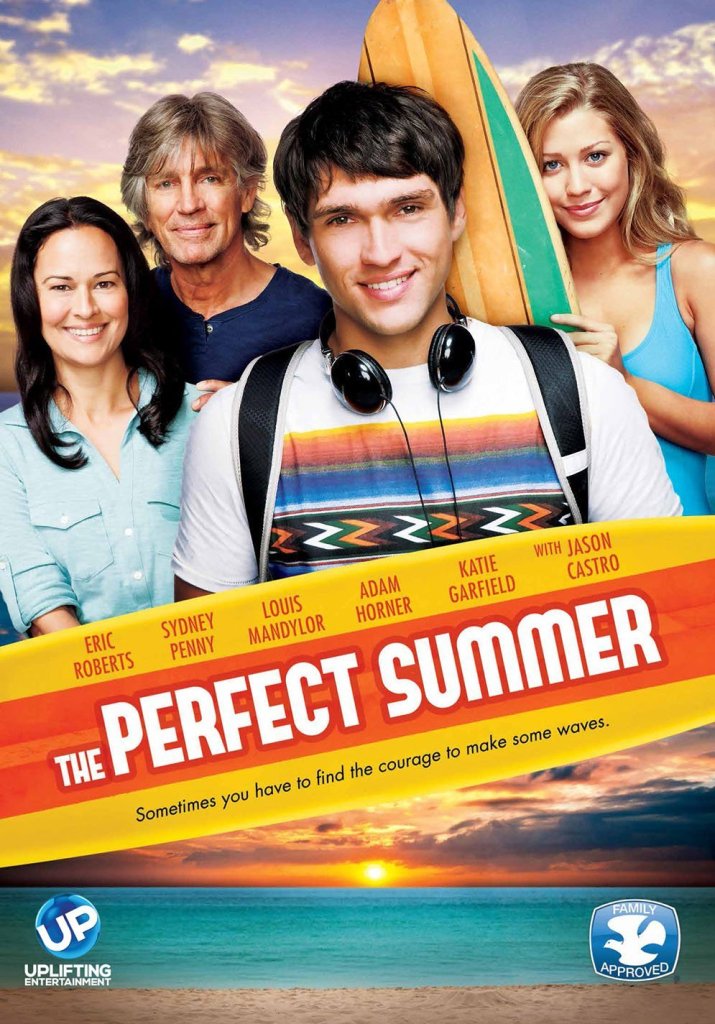 In The Perfect Summer, fatherless teenager Jake is happy living in Chicago, until his mother decides to uproot them to a small surfing town where her estranged father, Jake's grandfather, lives. The transition isn't easy for anyone and it seems everywhere he goes, Jake manages to make enemies, including the town bully, Tyler, who doesn't like the new interloper or his interest in young surfing prodigy, Kayla.
Stuck in the beach town with no friends and no knowledge of surfing, Jake has nowhere to turn until Cody (played by Jason Castro), the local surf shop owner, reveals that Jake's grandfather is a surf legend. Tired of feeling like an outcast, Jake asks Lou to teach him about surfing. Jake learns to face his fears, push through inhibitions and realizes that winning the respect of his new peers – and Katie's heart – might mean facing the biggest challenge of his life.
My husband is a surfer so any movies with surfing in them are usually a hit in this house. Plus, we love having positive family-friendly movies in our library. This DVD was a win for the movie library. The acting wasn't cheesy like some of the Dove approved films can be. The beach scenes were of course beautiful. But, the message was superb – and that's the way I like films. I don't know about you but I really appreciate a family conflict in films and watching the progression of that conflict become resolved.
And did you know that the grandfather, Eric Roberts, is Julia Robert's brother and Emma Robert's father? He did a great job! One more reason you must see this film.
Connect with Word Films
Buy The Perfect Summer
You can now get The Perfect Summer for $5 at Family Christian!
Win The Perfect Summer DVD
Three (3) lucky Long Wait For Isabella readers will win their own copy of this family friendly DVD. Enter the Rafflecopter form below for your chance to win. Open to US residents 18+.
Good Luck!
Disclosure: I was sent the above film for review. All opinions are mine. No other compensation was given.