It has never been a secret that I love snacks. Thankfully, I have been doing pretty well on my snacking since I've started swapping meals with green smoothies. I have also started swapping chips for popcorn or sushi paper and bananas for candy. But, on the occasion that I do grab a chocolate snack bar, I have a new favorite — Skinnygirl Nutrition Bars. Swapping your snacks for a healthier snack is always beneficial. Though, I don't eat a Skinnygirl Tasty Nutrition Bar daily, every now and then this sweet low calorie snack is exactly what I need after a long day.
Containing less than 200 calories each, Skinnygirl Tasty Nutrition bars are packed with protein and fiber. No need to sacrifice great taste for a healthful snack! Skinnygirl Tasty Nutrition Bars are available in three decadent flavors: Chocolate Peanut Butter with Sea Salt, Dark Chocolate Pretzel and Banana Oatmeal Dark Chocolate. And they all taste heavenly! These bars are also gluten free, Kosher and contain no artificial sweeteners or flavors.
I love that Skinnygirl is launching the Skinnygirl Snack Swap website. This website will make swapping out snacks for more healthful options easier by featuring a tool that asks you to choose your favorite snack and then personally picks healthier options to match your craving. Visit the site for plenty of nutritionist-approved healthy snack recipes, and don't forget to share your snack swap on Facebook, Twitter, and Instagram using the hashtag #sgsnackswap.
I visited the Snack Swap site and put my information in. I picked chocolaty  as my snack and brownie as my indulgence. I was given two recipes to swap including a mug cake and no-bake bar as well as the Chocolate Peanut Butter with Sea Salt Skinnygirl bar. Did I mention that I love this site? I also shared my findings for a chance to win a $1000 Target shopping spree! Try it for yourself, it took only about two minutes.
What snack that you eat would you love to swap?
[Tweet "Heads up –> Skinnygirl is making it easier to pick better snacks! #SGSnackSwap"]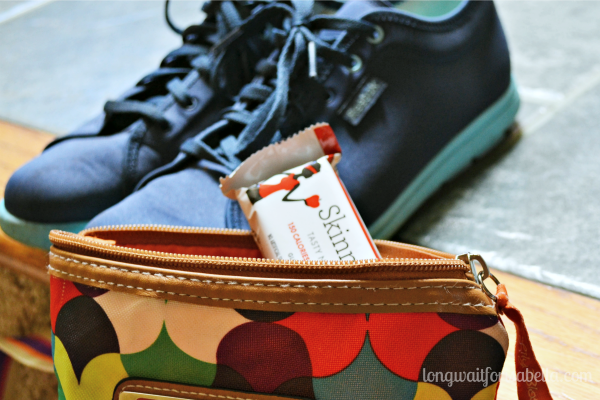 Run out to your local Target or other retailer and buy a box (or two or three) today. You won't be sorry. These are honestly the best snack bars I've had yet. My biggest problem is keeping them hidden from my son and husband. They love them too!
About Skinnygirl
Founded on the practical, healthy lifestyle expertise of Bethenny Frankel, Skinnygirl provides solutions to women's most common health concerns making the path to healthier living as fun and straightforward as possible. The Skinnygirl products are created with distinctly high standards for the best ingredient quality, nutrient content, and taste. Skinnygirl empowers women to lead balanced lives by making healthy choices easy.
Connect with Skinnygirl
Facebook // Twitter // Instagram
Skinnygirl Discount Code
When placing an order for Skinnygirl Tasty Nutrition Bars on the Skinnygirl Daily website use this unique $1.00 discount code: SNACKSWAP32.
Win Skinnygirl
One lucky Long Wait For Isabella reader will win their own assortment of Skinnygirl Tasty Nutrition Bars and a $25 Target gift card! For your chance to win, enter the Rafflecopter form below with your Facebook account or email address. This giveaway is open to US residents 18+.
Disclosure: This is a sponsored post with Skinnygirl. They provided me with the above product and Target gift card.