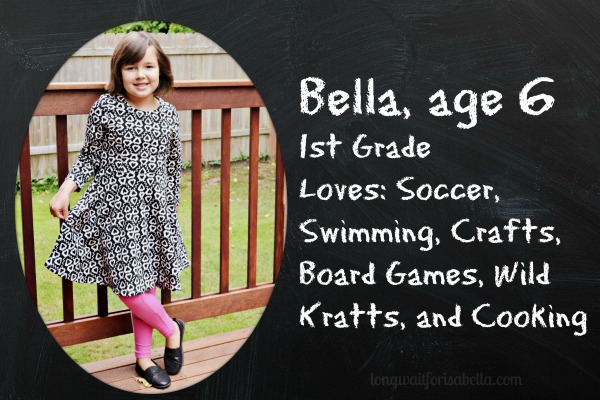 We started 1st grade homeschool this past week. But just because we are homeschooling, doesn't mean my daughter doesn't get back to school clothes. In fact, she loves new clothes and anything to do with fashion. A dress that can be paired with leggings and is easy to care for is on my top list of back to school clothes for her and I am so thankful that we found FabKids clothing.
What's cool about FabKids is that it was started by a group of parents including mom and actress Christina Applegate who wanted to kids to be able to express their own style through fashion. But they also wanted parents to be able to easily shop for high-quality fashionable clothes with the click of a button. As a parent with two young kids, online shopping is where it's at for me. I am not a fan of lugging them through a mall. I want cute. I want quality. I want affordable. FabKids is all three.
But FabKids is also unique in that it is also a fashion club that you join for free.  Parents get monthly selections of super affordable, high-quality fashions personalized for their kids. Every outfit includes 2 pieces for just $29.95. You can get a fabulous dress, paired with leggings OR a top and a bottom. FabKids is currently available in sizes 2-12, so not just for elementary aged school children.
Obviously based on her "fashion show" photos she loved the outfits. When we looked at all the girl's outfits available it took a long time to decide on just two to review. My daughter loved them all. I should have just picked out my favorites but I knew she'd have fun narrowing the outfits down.
We joined a homeschool co-op and she'll be having Friday school with many other homeschooled children in our county. She can't wait to wear her new FabKids outfits!
These two outfits are not the only cute things at FabKids there is so much to choose from! It is overwhleming, in a good away. I easily found 8 other outfits that I'd love to get my Princess if money were not an issue. These clothes are just so cute and honestly they are made really well. High quality, seriously.
Do you prefer to shop online or in-store for your children's clothes?
Connect with FabKids
Win FabKids
One lucky Long Wait For Isabella reader will win their own free credit ($29.95 retail value) to FabKids which can be redeemed for a 2-piece outfit. Enter the Rafflecopter form below for your chance to win.
Disclosure: I was sent the above outfits for review. All opinions are mine.