Our family loves eggs. We don't eat them daily but when we make them, they are a hit. I decided to do something fun with the kids this week. We had an Egg Roll Up Bar. They got to decide which fixins they wanted in their egg roll up – kind of like a burrito. And do you know what? It was a huge hit! {I even LOVED it.}
Egg Roll Up Recipe
Ingredients
2 Eggland's Best Eggs (per roll-up)
Cheddar Cheese, shredded
Green Onions, diced
Tomatoes, diced
Kale, chopped
Salsa
Sour Cream
Salt & Pepper to taste
Directions
Beat two eggs. Pour them into a large pan so that the will be thin (like a tortilla) when cooked. Cover with lid so top cooks along with bottom. Or if you are super talented flip and cook on both sides. Fill with desired ingredients and roll. Cut in half for easier handling.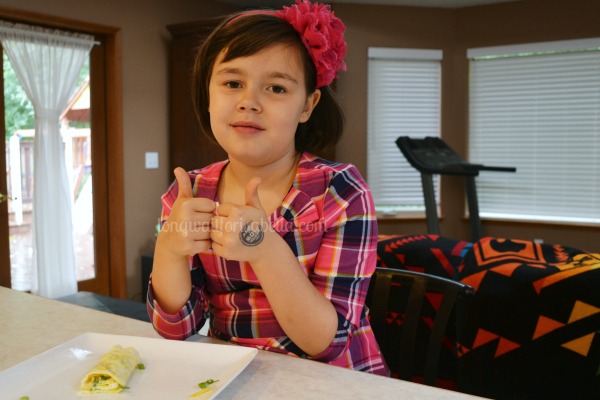 About Eggland's Best Eggs
Did you know that Eggland's Best (EB) eggs are packed fresher and stay fresher than ordinary eggs? By using EB eggs in everything from breakfasts, afterschool snacks to tasty desserts, it's easy to sneak in key nutrients that will keep your little learners energized, focused, and strong.
Compared to ordinary eggs, EB eggs contain more than double the omega-3s, which studies have found may boost attention in kids under 12. Plus, with ten times the vitamin E, a key antioxidant for strong immunity, EB eggs can help to ward off those sick days.
We know the day doesn't end after the bell rings, so you'll be excited to hear that EB eggs pack four times the vitamin D, helping the body absorb calcium for strong bones on and off the field. They also have only 60 calories while ordinary eggs have 70 and also contain 25% less saturated fat, -helping to keep kids light on their toes.
Connect with Eggland's Best
Facebook // Twitter // Pinterest // Instagram
Disclosure: This is a sponsored post from Eggland's Best Eggs. All opinions are mine alone. The Eggland's Best information, coupons, gift card, and additional gift pack have been provided by Eggland's Best.