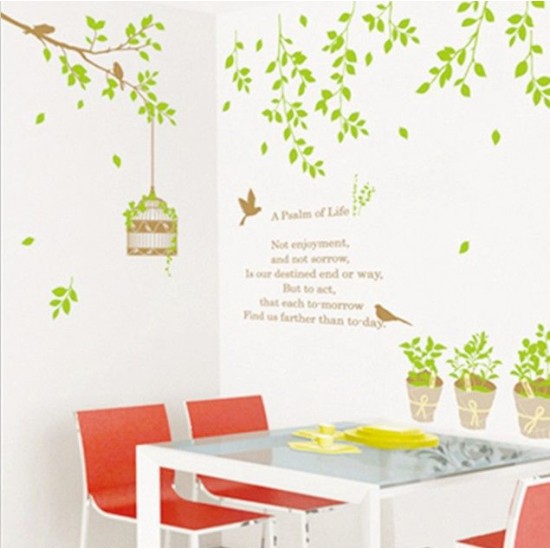 We are blessed to be living in a more rural county in Western Washington. We thankfully, have a lot of evergreen trees. But if you live in the city in the middle of a man-made world it is more difficult to enjoy the great outdoors and nature that I often take for granted. Now it has become quite possible, with the emergence of tree wall stickers, to expose your child to trees in his own room from Tree Wall Decals World.
Children loves being around nature – they love trees, flowers, friendly animals but living in the city they might not get exposure to nature. Their only contact with nature is while visiting the park near their house, or taking a trip to to a national park which doesn't happen often enough.  Now, you can help your child bond with nature with the magicwall vinyl wall stickers.
Research
If you want to purchase magic tree wall stickers for  your child's room do proper research and look for the available options when buying tree wall stickers for a nature theme. Easily give the room an outdoor look and find stickers your child will love. If you decide to go with a forest or jungle nature theme then try to get all the necessary information regarding how to set up a jungle theme using various types of tree wall stickers from the various websites offering several articles on wall stickers and theme based room decoration using wall decals. If you want few selected types of tree wall decals then you can buy it from the online shopping portals dedicated to home furnishing and craft and decorations.
Budget
A budget is necessary for whatever you plan to do when it comes to home decorations. If you are low on money and want to go light on your pocket then tree wall stickers is the best way to get your rooms decorated. You can bring back some life and freshness in my rooms especially the living room and nursery for an affordable price when using wall decals.
Compare Prices
Don't forget to compare the prices of decals. If you are looking to buy wall stickers and get them in a craft or departmental store near your place make sure you compare the prices with the online shopping portals which also sell wall stickers as it will help you to save some bucks. Many times the online shopping sites give attractive discounts and offers which can give you tree wall stickers at a much reduced rates. You can get more stickers at a slashed price range and get yourself an amazing deal.
If your children would love to have a nature theme in their room, buy the wall decals!