Which books are you going to add to your fall reading list? Do you enjoy Christian books? I love reading, and always want more time in the day to read more. I love having a large library of quality Christian books and one day I will read them all!
Here are four Christian books that are available to purchase or pre-order on Family Christian
.
1. Living Courageously by Joyce Meyer
Fear commonly affects our ability to live fully, holding us back from what enriches our lives and the lives of others. But our quality of life will improve when we learn how to be courageous in the face of fear.
In Living Courageously: You Can Face Anything, Just Do It Afraid, Joyce Meyer explains how, as Christians, we can overcome the paralyzing power of fear by calling upon the Lord. "Fear not" is written throughout the Bible. God knows His children will be confronted with fear, but He can help us resist it.
It is your inherited right as a child of God to live life to the fullest and to enjoy it. Joyce will encourage you to be expectant as you learn to conquer fear, become all God wants you to be, and do all He wants you to do. With a blend of personal insight and inspiring Scripture, this book will help you employ the power of God to overcome fear and achieve your best.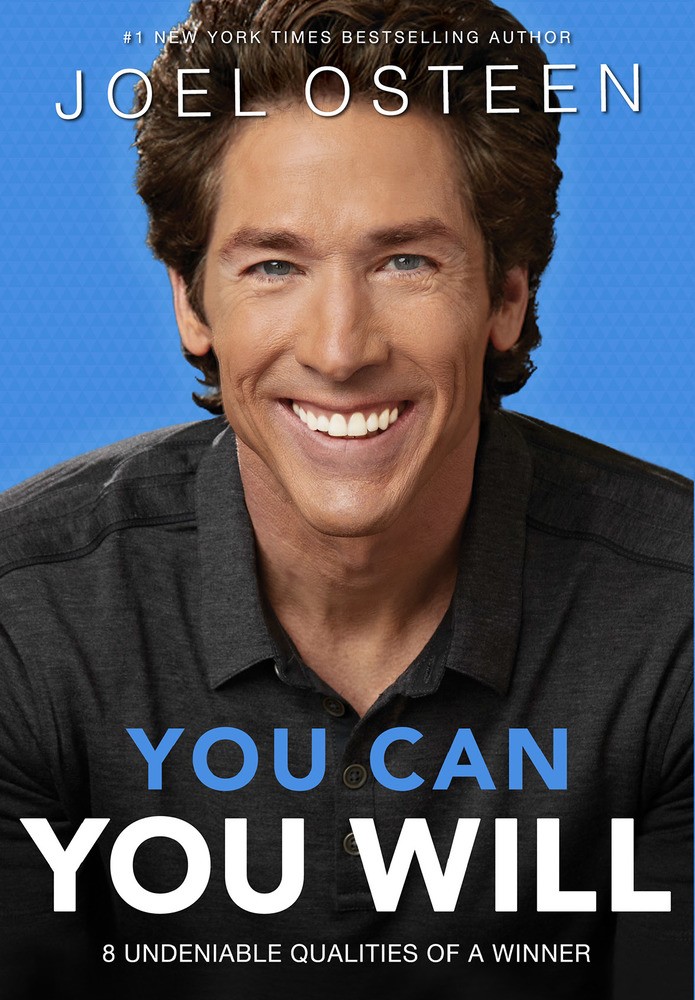 2. You Can You Will by Joel Osteen
In YOU CAN, YOU WILL, Joel Osteen identifies the eight irrefutable traits and attributes of highly successful people. These personal qualities are tested through the ages and all types of circumstances. The practical principles guide the lives of champions are:
Create bold visions – Dare to dream big dreams. Run your own race – Focus on your unique course and goals. Think positively – Control your thoughts and attitudes.Expect Good things to happen-Anticipate great opportunities.Stay Passionate – Light the fire within and approach life with enthusiasm.Commit to excellence – Do your best and maintain high standards. Keep growing – Deal withyour weaknesses and continually improve.Serve Others – Invest yourself in others.
3. AD 30 by Ted Dekker
A sweeping epic set in the harsh deserts of Arabia and ancient Palestine.
A war that rages between kingdoms on the earth and in the heart.
The harrowing journey of the woman at the center of it all.
Step back in time to the year of our Lord…A.D. 30.
The outcast daughter of one of the most powerful Bedouin sheikhs in Arabia, Maviah is called on to protect the very people who rejected her. When their enemies launch a sudden attack with devastating consequences, Maviah escapes with the help of two of her father's warriors–Saba who speaks more with is sword than his voice and Judah, a Jew who comes from a tribe that can read the stars. Their journey will be fraught with terrible danger. If they can survive the vast forbidding sands of a desert that is deadly to most, they will reach a brutal world subjugated by kings and emperors. There Maviah must secure an unlikely alliance with King Herod of the Jews.
But Maviah's path leads her unexpectedly to another man. An enigmatic teacher who speaks of a way in this life which offers greater power than any kingdom. His name is Yeshua, and his words turn everything known on its head. Though following him may present even greater danger, his may be the only way for Maviah to save her people–and herself.
4. Jesus Daily: 365 Interactive Devotions by Aaron Tabor
Based on the major themes found on the most active Facebook page in history, Jesus Daily is a 365-day interactive devotional that goes beyond even the fan page to create a deeper experience and cultural movement that celebrates your redemption in Christ. It presents a devotional thought but also challenges you to respond to each daily reflection using a variety of social media tools.
Which book would you love to read this fall?
Disclosure: This is a sponsored post and contains affiliate links.