I participated in an Influencer Activation on behalf of Mom Central for the American Optometric Association. I received a promotional item to thank me for my participation.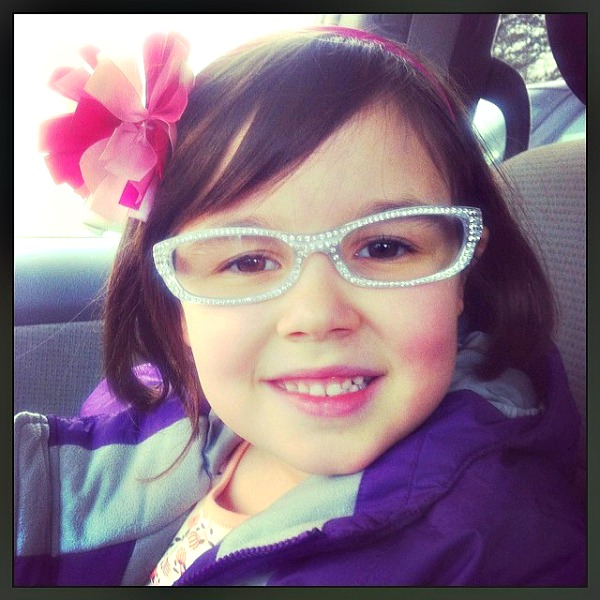 Last school year my Princess had her first eye exam. We didn't expect her to have any sight issues, but since she was starting Kindergarten, we felt it was important to have her eyes checked. Thankfully, her eyes looked great and she had fabulous vision. The amazing optometrist gave her some fun clear glasses anyway (for free!) because she really was hoping to get a pair. I realize now I should have taken her in much sooner.
Have your kids had their eye exams this year?
Technology is being used now more than ever in the home at in the classroom. The American Optometric Association (AOA) reports that 83% of children between the ages of 10-17 spend 3+ hours on electronic devices each day! Most parents, including me, think their children spend less than that. Did you know that 80% of the children the AOA surveyed reported they experienced burning, itching, or tired eyes after all that time on their devices? These are all symptoms of eye strain due to the prolonged use of electronic devices.
Symptoms of Eye Strain
burning, itchy, tired eyes
headaches
fatigue
loss of focus
blurred and/or double vision
head and/or neck pain
Healthy Eye Tips for Kids Using Electronics
Use the 20-20-20 rule.  Every twenty minutes take a 20 second break to look at something 20 feet away.
Adjust height and position of the electronic device. Computer screens should be 4-5 inches below eye level and 20-28 inches away from the eyes. Other electronic devices should also be held below eye level and as far away as possible.
Check for glare on the screen. Adjust monitors so there is no window glare on the screens.
Adjust brightness of screen.
Match the lighting in the room to the lighting of the screen.
Increase font size to make it easier on your eyes to read.
Keep blinking – reduces the chance of dry eye and keeps eyes moist.
I don't know about you, but as a blogger, eBook reader, and social media enthusiast, I have noticed some eye strain. I am thankful for these healthy eye tips in my own life and for my children as well. Since my kids are young, we limit their time on the iPad and personal DVD player but these tips are still helpful even with young children.
I know back to school season is a busy time, but take a moment and make your kids an eye appointment this school year.
Comprehensive eye exams by an optometrist are essential in identifying the signs and symptoms associated with digital eye strain and other vision problems. The AOA recommends every child have an eye exam by an optometrist soon after six months of age, before age three and every year thereafter. Children now have the benefit of yearly comprehensive eye exams thanks to the Pediatric Essential Health Benefit in the Affordable Act, through age 18.
Connect with the American Optometric Association