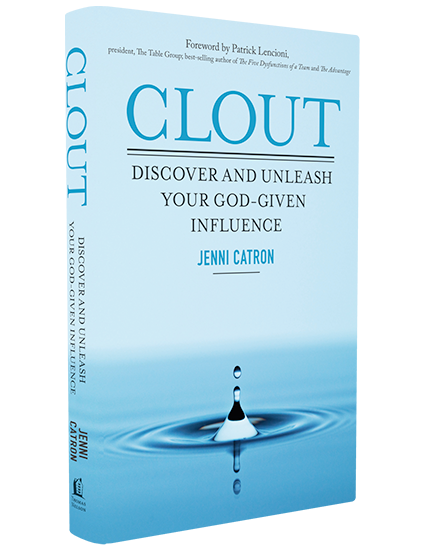 Do you ever wonder what God's will is for your life? Or maybe wonder how you will ever succeed? I am constantly plagued by doubt and also the desire to be doing something great for God's kingdom.
I'm not the only one am I? Surely, not.
This is why Clout by Jenni Catron is such a timely book in my life. She explains how we all have clout, or important influence to those around us. Using Biblical examples and real life examples she does a great job at explaining why she believes we all have God-given clout. She also keeps it practical and shares the things in our life that fight against the clout like fear and insecurity (my own issues). She then shares the things that cultivate the clout.
This book is not only great for church leaders and pastor's wives but for everyone who'd love to do great things for God and is just not sure how to take that first step.
More about Clout
We all long for significance, even as we fear we will never be good enough. We listen for God, but hear only voices of doubt and practicality. Listen again. There is a call that only you can answer.

Clout is power and influence. It is an undeniable trait that opens doors and moves mountains. You have it, and you can use it to change the world around you. With Scripture and stories from her own life, Jenni Catron maps out the pitfalls and clear paths on the way toward discovering and unleashing your very own clout.

This is not a quest of power for power's sake. Influence is not a guarantee of fame or fortune. It is an opportunity to use your gifts to do the extraordinary. This is a journey toward dismantling what stands in the way of your influence and leadership, discovering your God-given clout, and using it to answer God's calling on your life.

Learn about Jesus and others who sought to lead like him. Stop dreaming and start planning. Define your direction, set your goals, and confront the challenges that stand between you and the person God made you to be. Step into your sphere of influence with the humble confidence of Christ.
[Tweet "YOU HAVE A SPECIFIC PURPOSE, A CALLING, THAT ONLY YOU ARE QUALIFIED TO FULFILL. #DiscoverClout"]
Connect with Jenni Catron
Facebook // Twitter // Pinterest // Instagram // Website
Buy Clout
Win Clout
Two (2) lucky Long Wait For Isabella readers will win their own copy of Clout by Jenni Catron. Enter the Rafflecopter form below for your chance to win. Open to US residents 18+.
Good Luck!
Disclosure: I was sent the above book for review. All opinions are mine.