My family loves vegetarian chicken salad but we had the privilege of trying a vegan chicken salad made with chickpeas not long ago and my husband fell in love. So I decided to recreate the recipe and build a healthier sandwich than before.
Does your family love sandwiches?
How about making easy sandwich spreads?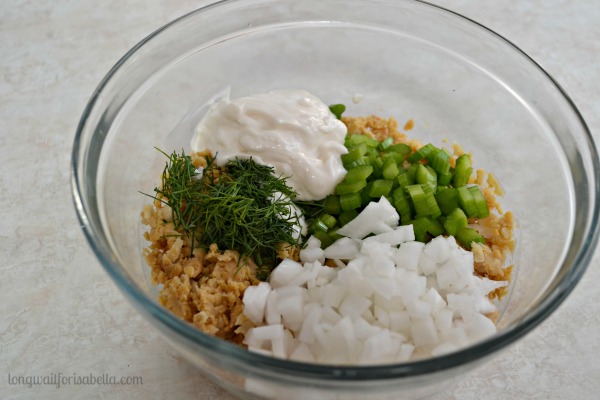 This chickpea chicken salad recipe is so easy. You only need five ingredients:
1 can of rinsed chickpeas, mashed
2 stalks of celery
1/4 to 1/2 white onion
1 T fresh dill
2 T vegan mayonaise
I mixed it all up in one bowl and seasoned with salt and pepper. Voila!
My husband and daughter like their "chicken" salad just like this – five ingredients and so simple. We spread it on a 100% whole wheat Oroweat® Sandwich Thins® Rolls, which taste great!
But, my Little Man and I prefer adding grapes to our mock chicken salad recipe. So I quartered 10 grapes and added that to our chickpea chicken salad and it was so yummy!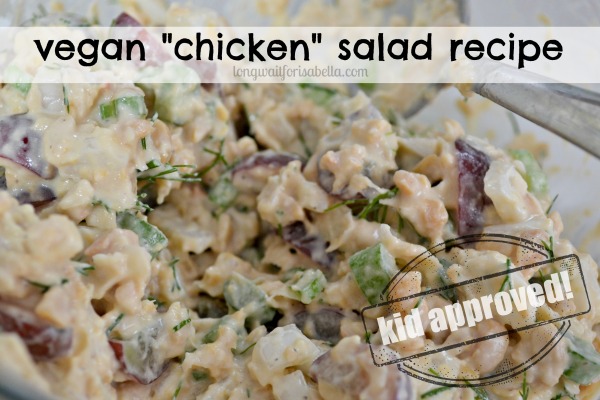 My Little Man even ate the entire sandwich. So this recipe is kid tested and approved by a two year old boy. Look how cute he is with his sandwich.
I took this awesome simple recipe a step further and added 1/2 T of curry powder to my vegan chickpea chicken salad. I love this fun twist on chicken salad. Curry Powder packs a great flavor in a small amount and it is a flavor I love.
What is your favorite sandwich?
Chickpea Chicken Salad Recipe
Simple vegan chickpea chicken salad recipe with only five healthy ingredients.
Ingredients
1 14 oz can Chickpeas, rinsed
2 Stalk of celery, chopped
¼ to ½ white onion, chopped
1 T Fresh Dill, chopped
2 T vegan mayonnaise
optional: grapes, curry powder
Instructions
Mash the rinsed chickpeas in a bowl.
Add remaining ingredients and mix well.
Optional: Add a handful of quartered grapes.
Optional: Add ½ T of Curry powder.
Oroweat® Bread believes the foundation of a "better-for-you" sandwich starts with two flavorful slices of bread packed with so many whole grains you can actually see them! However, the goodness you put between the bread makes a big difference.
Oroweat® Whole Grain Sliced Breads and Oroweat® Sandwich Thins® Rolls contain:
3 to 4 grams of fiber per slice or thin
Zero grams of Trans Fat
No High Fructose Corn Syrup
and are Cholesterol free
Disclosure: This is a sponsored post. Oroweat® provided me with coupons to redeem product and a gift card for sandwich recipe ingredients.