Is your skin starting to look a bit worse for wear? It's natural for ageing to take its toll, leading to sagging, wrinkles, and dark circles no matter how much sleep you get. Fortunately, there are a number of natural ways to improve circulation, boost collagen production, and fight wrinkles for a quick and easy face lift without going under the knife! Read on for five beauty boosters for an instant face lift.
1. Use Pineapple for a Quick Lift
There are a number of fruits that are great for the skin, but one of the top choices is the pineapple. Pineapple contains enzymes which can help boost hydration, exfoliate the skin, and help improve elasticity for a lifting, firming effect. You can opt to apply pineapple skin directly to the face with a cotton ball, or try freezing it into ice cubes for a zippy treatment. Don't leave pineapple juice on the skin for more than five minutes, due to its high acidity. Eating pineapple boasts a number of other health benefits as well, improving digestion and soothing sore throats!
2. Try Facial Exercises
You may go to the gym to get your yoga on, but have you thought about giving your face a little workout too? Puffing out your cheeks, massaging your skin with your fingertips, and gently fluttering your eyelids are all ways to work out facial muscle groups. You can also try purchasing a headset designed to stimulate your muscles electronically, by sending electrical impulses to your facial nerves which can lift the face.
3. Use Stick-On Plasters to Fight Wrinkles
Gravity is a major cause of wrinkles. Fight it by applying a force of your own! You can stick small plasters onto your crow's feet, forehead wrinkles, or other trouble spots. Position these so that they keep your muscles flat and relaxed at night, reducing signs of wrinkles.
4. Shape your Brows
Are your eyelids starting to sag? Give your eyebrows a makeover to create a sleek arch. A perfectly arched brow can hide sagging eyelids, giving the illusion of a lift in that area. Use your natural arch as a guide and enhance brows with a good pencil or powder. A highlighter on the brow bone can make your eye look tighter and higher as well.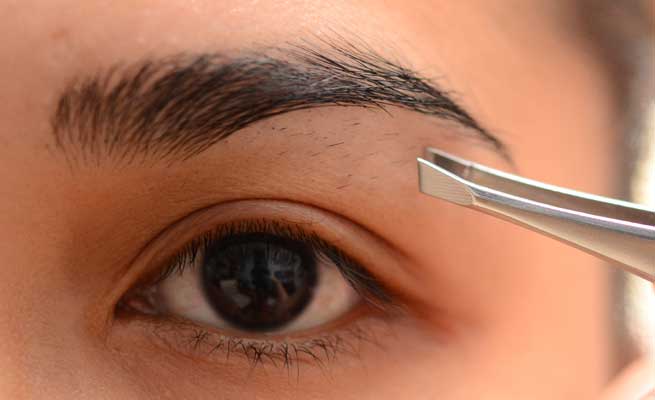 5. Stimulate Skin with Peptides
If you've taken a look at skin care products lately, you may have noticed that peptides are a key ingredient in many tightening creams. Peptides are proteins, which are composed of chains of amino acids. These proteins can work wonders for your skin, because they have the ability to stimulate collagen production and hydration. Although peptides alone won't rejuvenate your skin, they are valuable ingredients to look for in your night cream and serums.
These natural treatments could help restore your skin to its former glory. Naturally, botanical face masks and stretching out your cheeks can't fix everything. If you are considering a more drastic cosmetic treatment, it's important to do your research. Learn more about rhinoplasty or face lifts before you go in for a consultation, and you'll have a better idea of whether this is the right path for you! In the meantime, a healthy diet with plenty of fresh fruit and vegetables and eight cups of water a day will help keep your skin looking smooth, hydrated, and radiant.