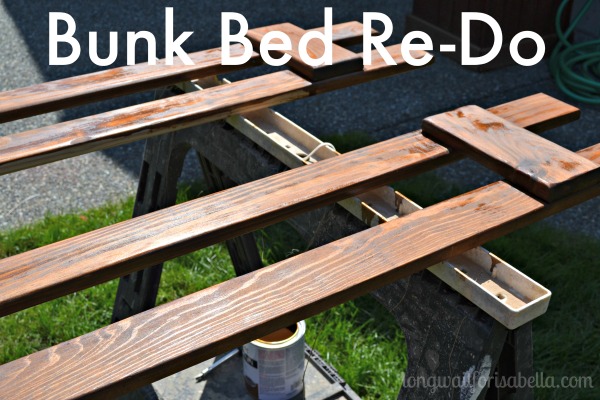 I mentioned before that our kids transitioned to their own room with a new (to them) bunk bed. I don't think I mentioned that we bought the wooden bunk bed for $20 from friends. We then went to our local hardware store and purchased supplies for about $30 to refinish and re-stain it. Our bunk bed redo was pretty easy!
How old were your kids when they stayed in their own bedroom?
We picked it up when the bed was still taken apart. The first step was stripping the existing finish. That was a pretty easy process. We just followed the instructions on the back of the can.
After the wood was completely stripped we took our palm sander and sanded the wood down a bit. We weren't going to do this step but decided at the last minute that the bunk bed would look nicer.
The last step was to stain the wood. We tried to pick a stain that would match our kids bedroom. Of course, it ended up being too dark. But it'll work. It is so hard to get an exact match. The brochure showed one color but ours turned out darker.
I keep saying, "we", but I better be honest. My awesome husband did all the work. I just watched, complimented, and took photos. I am blessed to have a great husband in my life!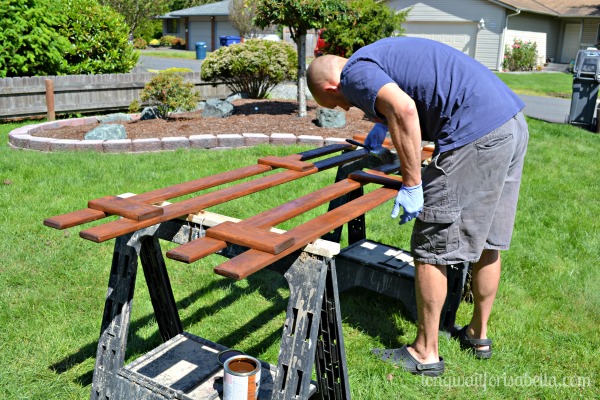 Now we need to find somewhat matching bedding for the kids. They are loving their new bed and more space in their room. I am thankful that my Little Man stayed in his bed until 3:50 am last night! I can't wait until I get a full night's sleep.