You know when you are traveling and outside walking all day long and your feet are killing you? Yes, that is what happens to me most of the time we go on vacation. Thankfully, Arcopédico, maker of high-quality, Portuguese-made women's comfort shoes, believes that finding the ideal travel shoe is a top priority to any successful adventure. After over 30 years in the business of crafting reliable, comfortable, durable and lightweight footwear for world-wandering women, Arcopédico offers its own "Top Ten" travel shoe tips to avoid the common pitfalls.
1. Travel Light. Look for shoes that won't weigh you (or your luggage) down.
2. Keep it Compact. Instead of stiff, bulky footwear, stay streamlined. A shoe that can fit into a carry-on bag is ideal.
3. Have a Support System. Don't sacrifice support for style. Back in my 20s I wore uncomfortable shoes because I thought they were fashionable. Now, choose style and support. Skip the paper-thin sandals and opt for lightweight, arch-supporting shoes to help prevent foot fatigue, cramps, and other travel woes.
4. Plan to Get Dirty. The best travel shoes are ready for action and adventure—which can involve a bit of mud. Opt for a shoe that can easily be washed and ready to start anew tomorrow.
5. Don't Get Tied Up. Any frequent flyer knows shoes should be quick and easy to remove and replace for maximum efficiency in airport security lines. Look for comfortable slip-ons or shoes with quick fasteners.
6. Weather the Storm. Choose travel footwear that is ready for rain, and that will last the miles.
7. Loosen Up. As pressure increases with altitude in a plane or alpine train, feet tend to swell. Protect feet with flexible, circulation-supporting shoes.
8. Don't Sweat It. Foot moisture can lead to blister formation, unwelcome odors, general discomfort and fungus susceptibility. Choose shoes with proper ventilation and built-in bacteria-fighting properties.
9. Be Realistic. As stylish as pointed toe shoes are, feet do not come to a point and they benefit from a broad, even plantar surface for balance, alignment, healthy weight-bearing and dexterity. Select anatomical shoes to avoid painful calluses, pinched nerves, and back pain.
10. Walk Responsibly. Globetrotters have a special appreciation for the earth. Tread lightly by wearing shoes made from environmentally-friendly materials and processes.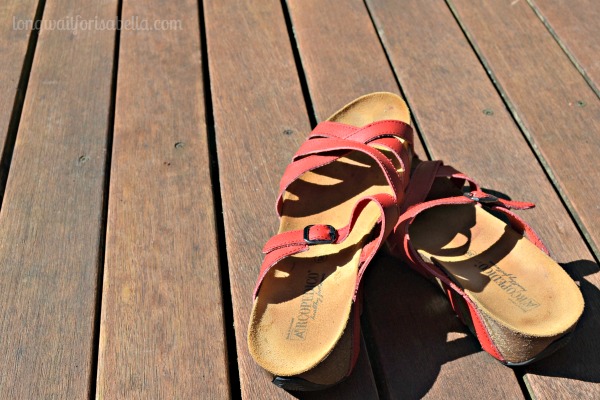 Arcopédico shoes can be purchased at independent shoe stores throughout the U.S. Simco Imported Shoes, Inc. is the sole U.S. distributor of Arcopédico shoes. A family business, the company was formed in 1983 by Manuel and Virginia Simas after finding Arcopédico shoes during a trip to Portugal.
Connect with Arcopédico Shoes
I reviewed this red walking sandal – Water. I LOVE them. I wear them daily. The Water sandal is quite comfortable and stylish. I have walked on grass, on pavement, cement, and down dirt trails in these the past two weeks and they've held up and done well. They are now molded to the shape of my foot and offer the support I need for chasing kids around the neighborhood and local parks but also looking stylish when I am shopping at our local mall or store.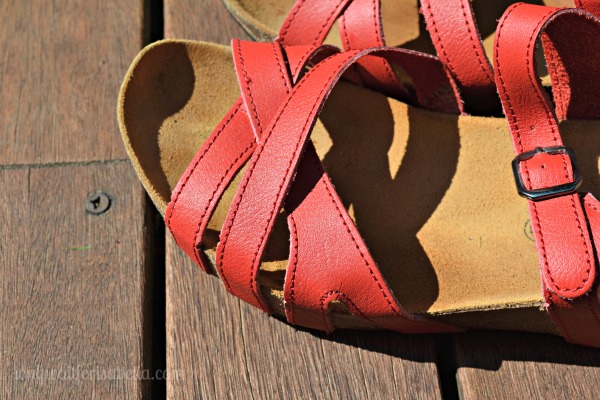 Disclosure: I was sent the above shoe for review. All opinions are my own.