This quarter in Kindergarten homeschool, my Princess is learning how to tell time. She loves it. We've learned about the short hand and long hand as well as the hours (1-12). We've proceeded to learn about 30 minutes after and 15 minutes after the hour. She LOVES it. In fact, math is her favorite subject right now. She taught herself how to count by 5s all on her own from 5-100. So now that she can count by 5s, telling time has become much simpler for her.
Here is a round up of great resources to help your youngster tell time:
Also, here are 5 books at Amazon to help kids tell time:
The best part of learning to tell time is getting a new watch! My Princess has wanted a watch of her own now for months. And not just a little digital cartoon character watch for $5 but a real watch! So she was delighted when she was given a scented Moffet Watch with interchangeable parts!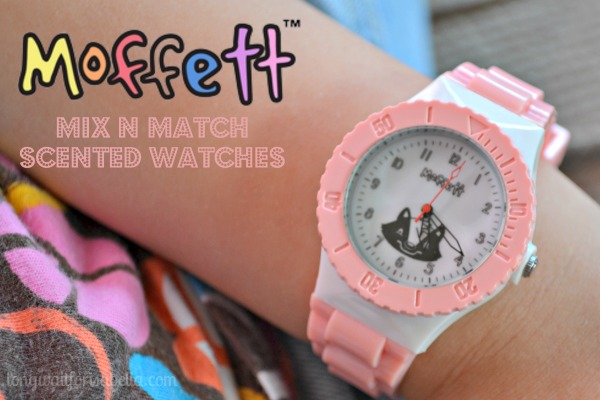 About Moffett Watches
If you are looking for a fun and fantastic way to smell like your favorite fruit, Moffett's mix and match watches let you pick both your scent and your color scheme. These cool watches are perfect for both the young and the young at heart.
So head to Moffett Watch and pick out a watch starter pack. (We chose the Coconut & Orange starter pack.) Then choose from 8 mix & match packs. We chose Strawberry and Grape scent – but it was a difficult decision! (Note to self, next time just pick, don't let the six year old decide!) You will also find Black Currant, Blueberry, Candy Apple, and Pineapple scent at Moffett Watch.
Which scent would you love best?
Connect with Moffett Watch
Facebook // Twitter // Google+ // Pinterest
Win Moffett Watches
One lucky Long Wait For Isabella reader will win their own Starter Pack and two (2) Mix n Match Packs (winner's choice!). Simply enter the Rafflecopter form below for your chance to win. Open to US residents 18+.
Good Luck!
Disclosure: I was sent the above product for review. All opinions are mine.