Do you know what you are getting your dad this Father's Day? Or what about your husband? I have a few ideas of my own for these two in my life. I wanted to share with you eight unique Father's Day gift ideas from one of my favorite places – Calendars.com. You did know that there is way more to Calendars.com than just calendars right? Check out these fun gift ideas:
1. Great Moustaches Mug – $12.95
Our Moustache Mug celebrates 14 of the world's most celebrated mustaches and the men that made them famous. The moustaches of Mark Twain, Lao Tzu, Leon Trotsky, and Groucho Marx are just some of the great mustaches featured on this cool and quirky mug. For extra fun, each moustache is numbered. Try to guess who each mustache belonged to, then check the bottom of the mug to find out if you're correct.
2. Chi-Ha Tank Metal Earth 3D Laser Cut Model – $14.99
The Chi Ha tank was built by Mitsubishi and designated the CHI-HA. It used the Mitsubishi air-cooled 170 horsepower diesel engine and was regarded as the best tank that Japan had produced during World War II. The main armament consisted of a single 57mm gun mounted in the turret and supported by two 7.7mm self-defense machine guns. These amazingly detailed DIY models start as 4″ square steel sheets and finish as amazing 3D models. Use easy to follow instructions to pop out the pieces, bend the tabs, and connect them at the attachment points. Build your collection today!
3. John Wayne 2-Pack Playing Cards in Tin – $12.99
Iconic John Wayne is captured in this 2 Deck Set of playing cards in a collectible tin.
4. Darth Vader and Son Book – $14.95
In this hilarious and sweet comic reimagining, Darth Vader is a dad like any other—except with all the baggage of being the Dark Lord of the Sith. Jeffrey Brown's delightful illustrations give classic Star Wars moments a fresh twist, presenting the trials and joys of parenting through the lens of a galaxy far, far away. A great Father's Day Gift!
5. Mini-Golf Book – $12.99
This Extreme Desktop Mini-Golf set is perfect for everyone—if you love the sport or hate it—you'll love this extreme desktop version. The set includes two golf clubs, a ball, five card putting challenges, and a how to play book. The book shows you how to set up the putts so you can start practicing the gravity-defying loop the loop and get your score down on the complete course challenge. Start a tournament with your friends, photocopy the tournament tables in the back of the book, and liven up even the most boring days. So, whether you're at work or at home, just clear a desk … and tee off!
6. Labrador Pale Ale Art Wall Sign – $12.99
Decorative Plaques are a ready-to-hang version of printed art. We take the printed page and encapsulate it between a UV blocking sheet of vinyl and a 3/8 inch thick sheet of MDF wood. We then finish it off with a decorative beveled edge and a keyhole hanging system. Once finished, this decorative plaque can hang in any indoor environment—from kitchens and baths to man caves!
7. Darth Vader Father Wacky Wisecracks – $14.99
If you love Star Wars, the Funko 6-inch tall Darth Vader Galaxy's #1 Father? Wacky Wisecrack Bobble Head is either the most sincere or best ironic gift for dad this season! This collectible bobble head is molded in plastic, with painted details bringing out the sculpting of the outfit and classic helmet. It's packaged in an open front displayable box. Add to your Star Wars collection today!
8. Jeff Gordon Notecards – $8.99
NASCAR fan in your life? Enjoy taking notes with these Notecards featuring 4 time NASCAR Sprint Cup Champion, Jeff Gordon and his #24 DuPont Chevrolet! Each notecard set includes 10 cards and 10 envelopes.
What does the father in your life want for Father's Day?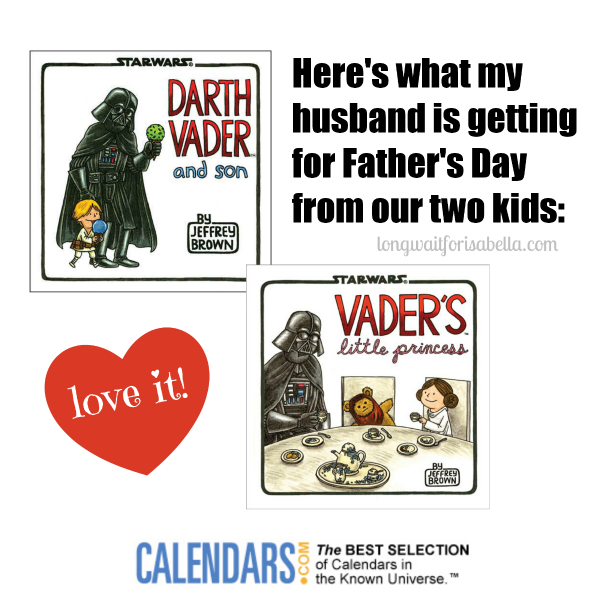 My husband asked for a specific book for Father's Day. He is going to be so happy when he opens two extra books this Father's Day from Calendars.com. I picked out Darth Vader and Son and Vader's Little Princess (the follow up book to this very popular book). One small book from each of my kids to their daddy. I peeked inside these books – they are so cute! If you have a Star Wars fan in your family, get these books!
About Calendars.com
Founded in 1999, Calendars.com brings together the latest Internet technology with the world's largest calendar inventory to create the Web's biggest and best calendar store. No other site offers you a greater selection of calendars or better experience with the calendar publishing industry.
Connect with Calendars.com
Facebook | Twitter | Pinterest | YouTube
Disclosure: I was sent the above books for review. All opinions are mine alone.