Do you know what you are getting your dad this Father's Day? Or what about your husband? I have a few ideas of my own for these two in my life. I wanted to share with you eight unique Father's Day gift ideas you can find on Amazon. Check out these fun gift ideas:
1. Great Moustaches Mug – $15.95
Our Moustache Mug celebrates 14 of the world's most celebrated mustaches and the men that made them famous. The moustaches of Mark Twain, Lao Tzu, Leon Trotsky, and Groucho Marx are just some of the great mustaches featured on this cool and quirky mug. For extra fun, each moustache is numbered. Try to guess who each mustache belonged to, then check the bottom of the mug to find out if you're correct.
2. Metal Earth Delorean 3D Laser Cut Model – $14.95
The Chi Ha tank was built by Mitsubishi and designated the CHI-HA. It used the Mitsubishi air-cooled 170 horsepower diesel engine and was regarded as the best tank that Japan had produced during World War II. The main armament consisted of a single 57mm gun mounted in the turret and supported by two 7.7mm self-defense machine guns. These amazingly detailed DIY models start as 4″ square steel sheets and finish as amazing 3D models. Use easy to follow instructions to pop out the pieces, bend the tabs, and connect them at the attachment points. Build your collection today!
3. John Wayne 2-Pack Playing Cards in Tin – $12.98
Iconic John Wayne is captured in this 2 Deck Set of playing cards in a collectible tin.
4. Darth Vader and Son Book – $9.49
In this hilarious and sweet comic reimagining, Darth Vader is a dad like any other—except with all the baggage of being the Dark Lord of the Sith. Jeffrey Brown's delightful illustrations give classic Star Wars moments a fresh twist, presenting the trials and joys of parenting through the lens of a galaxy far, far away. A great Father's Day Gift!
5. Mini-Golf Book – $29.99
Desktop Golf – A contemporary spin on the popular Zen gardens. Build your own course, sink a hole in one. The only way to experience golf sitting down. Includes 8″ x 10″ hardwood sandbox, ultra white sand, nickel-plated golf club pen, flag, putting green, 2 mini golf balls, grooming rake, 2 stones.
6. Labrador Pale Ale Art Wall Sign – $15.95
Decorative set of three 8×10 water color prints. Add some puppy love to any room in your home. Give the gift of man's best friend.
7. Darth Vader Electronic Funko Pop – $19.09
Celebrate one of pop culture's most recognizable villains and proclaim your allegiance to the dark side with an electronic Pop! Darth Vader. Darth Vader lights up and makes his iconic "breathing" sound.
8. Tire Snack Bowl with Hubcap Lid– $23.00
NASCAR fan in your life? They will love this sixteen ounce snack bowl. 
What does the father in your life want for Father's Day?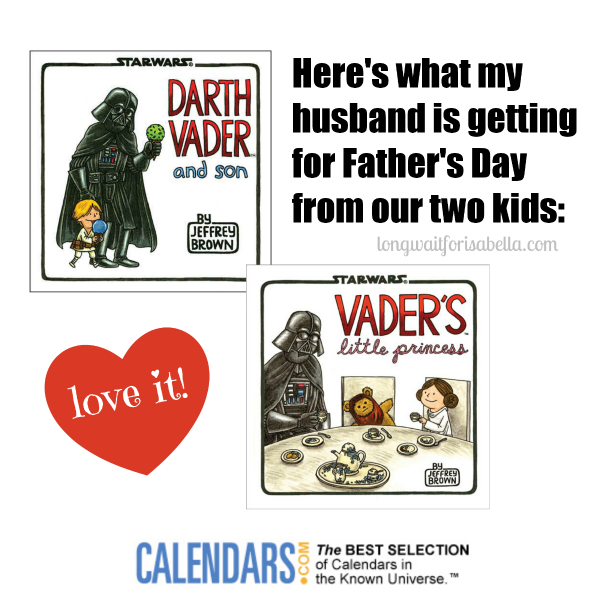 My husband asked for a specific book for Father's Day. He is going to be so happy when he opens two extra books this Father's Day. I picked out Darth Vader and Son and Vader's Little Princess (the follow up book to this very popular book). One small book from each of my kids to their daddy. I peeked inside these books – they are so cute! If you have a Star Wars fan in your family, get these books!