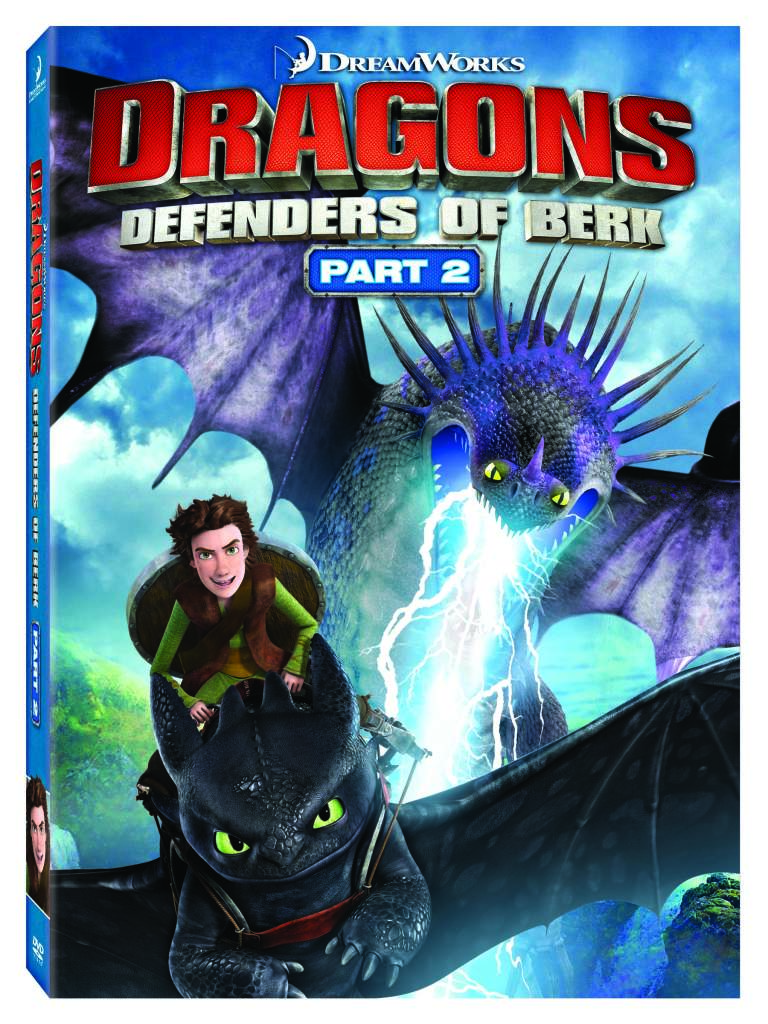 My daughter loves this series. I mean LOVES it. We've seen Dragons Live and shared the press releases for the DVDs. So when Dragons Defenders of Berk Part Two came out on May 27th, I knew she'd be beyond excited!
Do your kids love the Dragons series?
About Dragons Defenders of Berk Part Two
This DVD continues the "Year of the Dragon" which will soar even higher when DreamWorks Animation's How to Train Your Dragon 2 arrives in theaters this June, along with Dragon game apps, books and other fan experiences releasing throughout the year. The DVD of the 2013 Annie Award winner for Best Animated Television Production for Children is loaded with exciting bonus content for the whole family to enjoy and contains 10 epic adventures and all-new dragons.
Based on the DreamWorks Animation Academy Award® nominated movie How to Train Your Dragon, there's action at every turn and excitement on every ride in DREAMWORKS DRAGONS: DEFENDERS OF BERK PART 2 as Hiccup and his fearless friends embark on new adventures and battle to protect their island home. The young Vikings must put their dragon training skills to the test to defeat dangerous and surprising new enemies!
Defenders of Berk, and the previously released Riders of Berk, is a must-own for any Dragons fan to catch up before the summer event when How to Train Your Dragon 2 hits theatres June 13th! The DVD is jam-packed with special features that dive deeper into the exciting world of Dragons, including:
Dragon Tracker Part 4 featuring an in-depth look at Skrill
Baby Thunderdrums and Speed Stinger dragons
a special sneak peek of Snaptrapper – a dragon that will be seen in How to Train Your Dragon 2
Evolution of Skrill – a featurette with visual effects supervisor David Jones who explains the history behind this mysterious and scary dragon
"Here Comes the Fire" Dragon Mash-up music video
When it comes to action and excitement, the sky's the limit in this high-flying animated TV series. Fans that purchase the DVD will also get a Digital HD UltraViolet™ code for the title and Movie Money ($7.50 value) to redeem for tickets to How to Train Your Dragon 2 when the film hits theatres in June, as well as a chance to win a free dragon racing saddle or a mystery box code for exclusive battle gear and powers to School of Dragons, the online game from JumpStart based on DreamWorks Animation's How to Train Your Dragon franchise. With cinema-like graphics and an immersive 3D world, it takes more than courage to train a dragon but brains as well. For more information, visit http://www.schoolofdragons.com.
Buy Dragons: Defenders of Berk Part Two
Win Dragons: Defenders of Berk Part Two
One lucky reader will win their own copy of this DVD. Enter the Rafflecopter form below for your chance to win. This giveaway is open to US and CAN residents 18+.
Disclosure: I am a FHEInsider and this DVD was sent in exchange for this post.