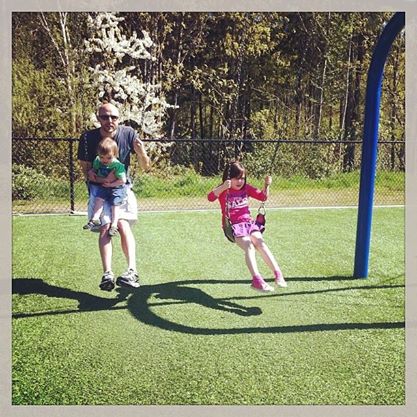 I am blessed with an amazing husband. Really. I don't know anyone else who's husband is as great as mine. That is the whole truth. He is an all star dad! We have a unique situation in that, my husband does not go off to work all day and leave us home. We get to go to work with him. So every day, we wake up together, eat all our meals together, and enjoy family life on the road. This schedule has resulted in both of my kids being very close to daddy. My Princess is definitely a daddy's girl. When my Little Man weans (one day…) he will probably be a daddy's boy too. Here are three things my husband does regularly, like each week, for my kiddos that I appreciate:
Makes them healthy whole wheat pancakes and adds flax and chia seed (at least 3x per week)
Brings them to the YMCA and plays in the pool for at least an hour while mommy exercises (at least 3x per week)
Has a movie night with them once a week
And one more thing that I sure appreciate – he reads my daughter her night time Bible devotional before bedtime. (I had to add four things!) I really am blessed with an amazing man. God is good!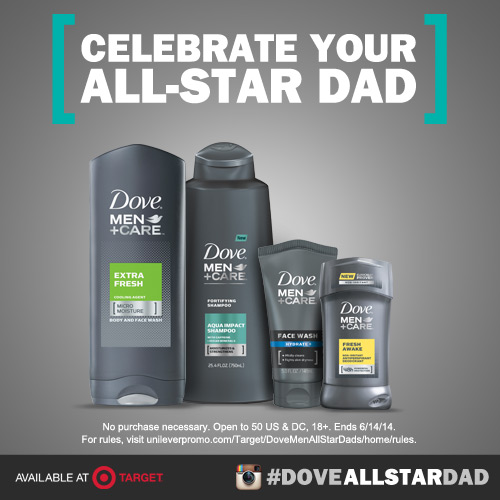 Dove Men+Care at Target wants to celebrate your All-Star Dad with tickets to this year's 2014 MLB All-Star game in Minneapolis. Show your Dad, husband or father figure how much you care and how he has impacted your life for a chance to win tickets to Baseball's 2014 Midsummer Classic!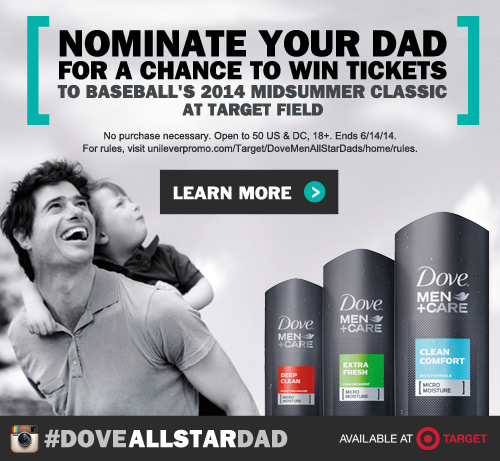 Simply submit a quick video explaining why your All-Star Dad is the best with the hashtag, #DOVEALLSTARDAD. Videos submitted via Instagram can be a maximum length of 15 seconds, while videos submitted through the sweepstakes microsite can be a maximum length of 30 seconds.
Once videos are submitted, Dove Men+Care and Target will select the top 10 videos. Starting 5/15/2014, viewers can vote on their personal favorites and will be entered for a chance to win a $10 Target gift card for voting. If your video is voted into the top 3, you'll win an all-expense paid trip to the 2014 Midsummer Classic in Minneapolis with your Dad. Submissions ends May 4th, 2014.
Do you have an all-star dad in your life?
Tell me about him in the comments below.
This is a sponsored post with Global Influence. All opinions are mine.