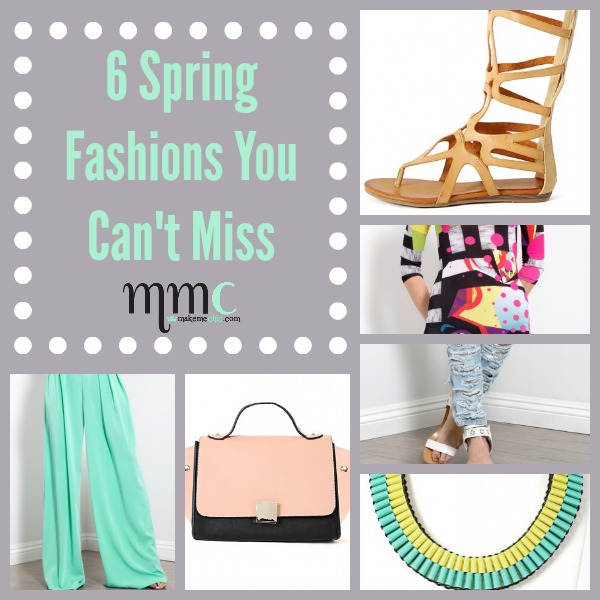 We know spring is the perfect season to shop for new clothes and accessories, but there are times when the things you want most are no longer available. Think about a pair of mint gladiator sandals that's so hard to find or those ripped jeans you want to pair with your wedge sneakers. No need to feel blue because at Make Me Chic, the best pieces are now back in stock! Here are six spring fashions you can't miss:

Looking for gladiator sandals for spring? Check out Ongee-04 Cut Out Knee High Gladiator Sandals in blush for a sophisticated chic take on spring. You just need your basic shorts or skater skirt, partner with either a plain or printed crop top, then don a fedora and you're good to go. The open toe and cut out design will make it easy for you to move with style during the warm weather.

Get vintage glam in high elegance with these palazzo pants. With its slim waist and wide leg design, walking under the warm sun will not cause you any uneasy, sticky feeling. It's made of flowy chiffon material so you're free to glide wherever you want to go. Choose this Mint Pastel Pleated Palazzo Pants which can be worn even on summer. Easily slip this on with a side zipper.
Midi Dress
When you want that fun, feminine glam, never underestimate the power of a midi dress, especially when it's colorful enough to make heads turn your way. This Picasso Geometric Midi Dress will hug your curves in the right places. When you feel like some areas need to be hidden, you can still wear the same dress as its geometric print can hide those unwanted flabs!

Spring calls for an adventure and when you need a new pair of pants, this pair of Ripped and Destroyed Skinny Jeans in light wash will give you the spring break you've been waiting for. This particular denim is very unique in style because the ripped designs are both in the front and back. A hot rocker chic like you wouldn't want to miss this again.
Necklace
Wanting to dress up a boring outfit? Choose this trendy Two Tone Rope Collar Necklace you can wear with a dress or simple basic tee. Never forget that walking around town without any accessory will make your outfit incomplete. When you've run out of clothes to wear, simply rotate your basics and turn them into a stylish ensemble by adding a touch of colorful bling for spring.
Handbag
How about a Celine phantom inspired bag to complete your overall look? You don't have to pay a fortune just to look fashion forward. With this Two Tone Trapeze Bag in peach, you can put your sunglasses, sun screen and even your foldable flats for a weekend out with friends.When you want the hottest, fashionable items, you only need to shop at Make Me Chic. From irresistible shoes and sandals, to one-of-a-kind bottoms, fashion has never been this fun and affordable.
Which Spring fashions are you most excited about?