This semester in Homeschool Kindergarten we are having Science twice a week. My Princess LOVES it. We've completed six lessons so far. She's learned about God's Plan for our lives and the Five Senses. She loves investigating and figuring things out. In fact, one of her favorite DVDs to watch at home is The Magic School Bus. I mentioned before that reading and writing were not her favorite classes, science and math is.
In fact, I honestly believe that students who excel in S.T.E.M. subjects – science, technology, engineering and math – will be the leaders of tomorrow's innovations and ingenuity. Don't you agree? Even President Obama has often said that winners of science and engineering fairs should be celebrated like NCAA champions! The Young Scientists Club agrees. As part of the Young Scientist Club's 15th anniversary, they have added something new – math and engineering themed kits! You can find four new kits to choose from.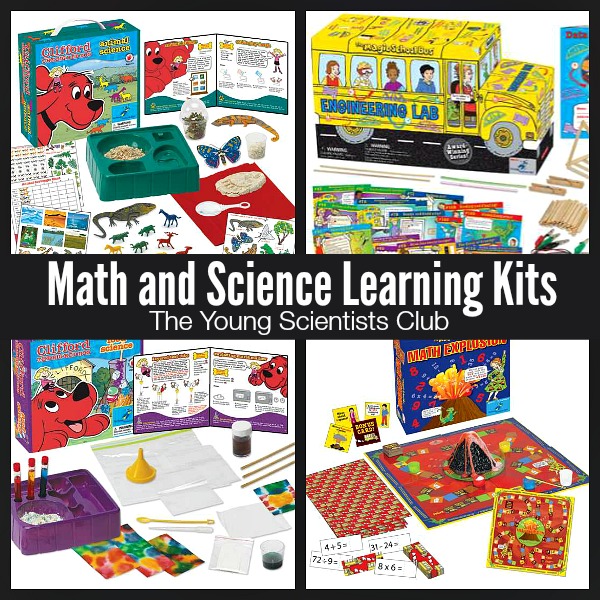 Ms. Frizzle of The Magic School Bus fame will show youngsters 5 and up that math is actually a blast in The Magic School Bus Math Explosion ($29.99) featuring a volcano! Age-appropriate chemical, electrical, mechanical and civil engineering are introduced in The Magic School Bus Engineering Lab ($39.99).

Clifford The Big Red Dog returns with two new kits, Clifford Animal Science ($19.99) and Clifford Food Science ($19.99). Perfect for preschoolers ages 3+, everyday items are explored with the help of Emily Elizabeth including bird feeders and dancing pasta!
We were sent The Magic School Bus Math Explosion game. I knew my daughter would love that one best. Science and math in one game? Plus it is from The Magic School Bus? It was a winner. My husband has played it three times with my daughter – she likes to see the volcano erupt. (You need vinegar and baking soda at home to create the eruption!) I am the homeschool teacher, so my husband didn't realize how well my daughter was doing in math. Her math addition abilities are amazing for a six year old. Do you think he took any photos of them playing it? Nope. But don't fret. I will Instagram a picture for you all the next time we play it. He didn't use the online math creator for this game. He just made up math addition problems in his head for my six year old. As she gets older, I am sure it won't be as easy to do that. So thankfully, we have the math creator (need to be online) to help us!
About The Young Scientists Club
The mission of The Young Scientists Club is simple – to offer children quality, science-related products that will fascinate them with the wonders of scientific discovery and spark their interest in future scientific endeavors.

All our products are designed by a team of Harvard graduates, scientists, educators, and parents with one purpose in mind – to combine fun and fascination with quality and learning in each and every product.
Connect with The Young Scientists Club
Buy The Magic School Bus Math Explosion
You can purchase Math Explosion or any other kit mentioned above from www.TheYoungScientistsClub.com. You'll find many more awesome products at the website as well. Math Explosion is also sold at Amazon.com.
Win Math Explosion
One lucky Long Wait For Isabella reader will win their own The Magic School Bus Math Explosion game. Enter the Rafflecopter form below with your Facebook account or email address for your chance to win. Open to US residents 18+.
Disclosure: I was sent the above product for review. No other compensation was given. All opinions are mine.