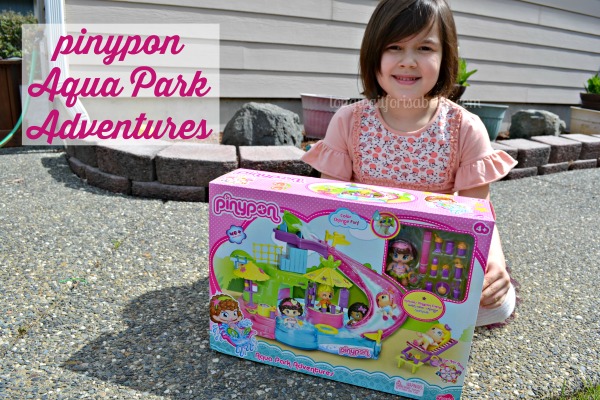 My daughter loves Pinypon. We have the various dolls, the Caravan, and the weekend getaway. Now we have the Pinypon Aqua Park Adventures.
The Aqua Park is such a fun doll set for Spring and Summer. My daughter was so excited to get this set and open it. She played with this set out front. Filling it with water was exciting for her. Any toy that can be filled with water is a hit in our house! Even my son, with supervision, played with the "water slide". He said "water slide" for about an hour.
Pinypon is a name I trust. A brand of fun interchangeable dolls, perfect for young kids. Made very sturdy, including lots of parts for imaginative play – my daughter always loves getting new Pinypon toys. The only thing that is difficult is all the stickers you have to add to the sets. My daughter LOVES doing the stickers. Mommy? Not so much. Honestly, I'd prefer the stickers already on the sets.
About Pinypon AquaPark Adventure
When those April showers strike outside, take a trip to a waterpark inside and make a splash without really getting wet! This set comes with the rare curly haired PinyPon that changes color in the water! The waterpark features hours of activity including a working water slide, a Jacuzzi that makes bubbles and even a lazy river with wave maker plus inner tubes. When ready to get out of the water, take your favorite PinyPon to the poolside bar for a snack. What a delicious way to spend the day.
Connect with Pinypon
Be sure to visit the Pinypon Facebook page for giveaways of their doll sets!
Purchase Pinypon Aqua Park Adventures
Pinypon Aqua Park Adventures is available for purchase at Amazon.com for $24.99. This is a great Spring and Summer toy for children ages 3-8!
What is your child's favorite way to play in the Spring?
Disclosure: I was sent the above toy for review. I was not compensated for this post. All opinions are mine.