Have you heard of The Daniel Plan: 40 Days to a Healthier Life yet? Though I was familiar with this book I didn't know much about how it came about and what was included in the book. As a Seventh-day Adventist Christian, healthy living is actually a pretty important part of my faith. I am very familiar with the story of Daniel in the Bible. Daniel and his three Hebrew friends, captives to the King of Babylon, refused to eat and drink from the King's table. They chose to eat vegetables and fruit instead. After a 10 day test, they were shown to be wiser than all the others. It is a great Bible story – a personal favorite in fact. So I was curious to learn more about Rick Warren's The Daniel Plan.
Did you know that The Daniel Plan landed No. 1 on the New York Times Bestsellers list in its first week?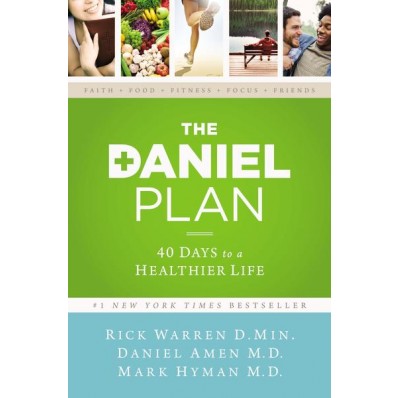 About The Daniel Plan
"The Daniel Plan" details a healthy lifestyle program based on five essential principles of food, fitness, focus, faith and friends, with the latter three being what Warren describes as "the secret sauce." The program was developed and originated at Saddleback Church in 2011 and within the first year more than 15,000 church members collectively lost more than 250,000 pounds while experiencing decreases in health issues and stress and increases in spiritual growth and energy.
The concept for "The Daniel Plan" was developed by Warren after baptizing 827 adults in one day by lowering each under the water and lifting them back up. At that time, Warren literally felt the weight of America's health problems while being simultaneously convicted by his own unhealthy weight and habits.
He enlisted three highly qualified doctors, Hyman and Amen, as well as Dr. Mehmet Oz, to develop "The Daniel Plan," which was conceptualized from the Old Testament biblical account of Daniel, who refused to eat the rich foods from the king's table and challenged the ruler to a 10-day health contest.
I really appreciate that "The Daniel Plan" shows the role that our eating habits play in our health. This book teaches that eating real, whole foods can be a doorway to reverse chronic disease, create resilient health and attain easy weight loss with a clear mind.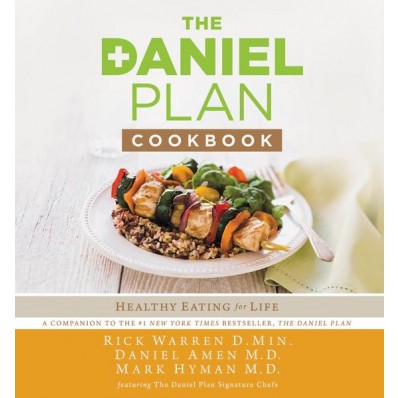 The Daniel Plan Cookbook
"The Daniel Plan" has done so well, and helped many people, that Dr. Rick Warren, founding pastor of Saddleback Church, and renowned Drs. Daniel Amen and Mark Hyman have joined together with The Daniel Plan Signature Chefs to release "The Daniel Plan Cookbook: Healthy Eating for Life". The cookbook is a four-color, 100-recipe companion to the bestselling book, "The Daniel Plan: 40 Days to a Healthier Life".
The Daniel Plan is not a diet, but rather a new way to live. Working with The Daniel Plan Signature Chefs, Sally Cameron, Jenny Ross and Robert Sturm, "The Daniel Plan Cookbook," is based on the essentials written about in "The Daniel Plan" and provides delicious, healthy recipes that are packed with benefits for one's body.
"In this cookbook you will find a menu of American classics that don't compromise taste and that will help you live healthier and give you energy to fulfill your God-given purpose," said Warren. "Food is one of the great ways to create fellowship and build relationships so it is our desire that this cookbook will help individuals rediscover how easy it is to cook fresh, delicious whole foods."
Though our family is mainly vegetarian, this cookbook does offer easy recipes with colorful photographs. I appreciate the tips for a Daniel Plan pantry and kitchen and how to shop, plan menus, save time, prepare ahead, and snack smartly.
Purchase The Daniel Plan Books
About the Authors
Pastor Rick Warren is a pastor, author, global strategist, theologian and philanthropist. Polls have identified him as "America's most influential spiritual leader," and he is often a go-to media resource for cultural and spiritual issues. Warren founded Saddleback Church with his wife Kay in 1980. In addition to a 120-acre campus in Lake Forest, Calif., the church has 10 satellite campuses across Southern California and international campuses in Berlin, Buenos Aires and Hong Kong. Saddleback plans to launch nine additional international locations over the next few years. With an average weekly attendance of more than 22,000, it is among the 10 largest churches in America.
Mark Hyman, M.D. is a practicing family physician, a six-time No. 1 New York Times bestselling author, and an internationally recognized leader, speaker, educator and advocate in his field of Functional Medicine. He is also the founder and medical director of The UltraWellness Center, chairman of the board of the Institute for Functional Medicine, a medical editor of The Huffington Post and a regular medical contributor on Katie Couric's TV show, "Katie."
Daniel G. Amen, M.D., is a physician, double-board certified psychiatrist, teacher and eight-time New York Times bestselling author. Widely regarded as one of the world's foremost experts on applying brain imaging science to everyday clinical practice, Amen is the founder of Amen Clinics. His work has been featured in numerous media outlets, including "The Dr. Oz Show," "ABC World News," "20/20," Newsweek, TIME, The Huffington Post, BBC, London Telegraph, Parade Magazine, New York Times and Cosmopolitan.
Disclosure: I received the above books for review. All opinions are mine.